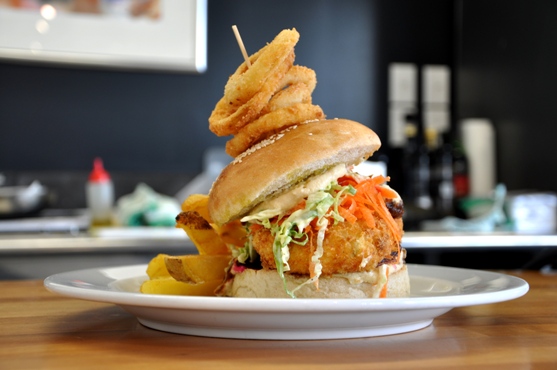 A vegetarian burger that offers more than meets the eye saw Miramar's Café Polo take out Wellington's coveted Battle of the Burger for 2011.
Chef David Thurlow won top honours at the Burger Wellington cook-off at Moore Wilson Fresh yesterday, edging out stiff competition from Wairarapa's Bar Salute, inaugural winner Lembas Café, Gusto Bistro and The Cheeky Pipi.
A judging panel consisting of Visa Wellington On a Plate Co-director Sarah Meikle, Jason Leung-Wai from Burger Wellington sponsor BERL Economics, restaurant critic and food writer David Burton, and Greer McDonald – author of the popular Burger She Wrote blog – had the tough task of assessing the finalists based on appearance, flavour and showcase of regional ingredients.
Ms Meikle said The Polly Burger stood out because of its "great balance of flavours" and incredible texture.
"All of us commented that even though it was vegetarian it had a certain 'meatiness' to it."
Mr Thurlow says The Polly Burger was named after his wife, who is a vegetarian.
"I must admit being named after my wife – there was a little bit of pressure (to win)."
The Miramar eatery had two of the biggest Saturdays in its four years of trading during Visa Wellington On a Plate 2011 and sold over 500 burgers in the space of the 12 days it was open during the culinary festival.
Thurlow had committed to bring The Polly Burger back to the menu if it won the title and it will remain on there "until people get sick of it".
Visa Wellington On a Plate's Burger Wellington competition saw 50 of Wellington's finest eateries attract 3800 text votes across 17 days. The five with highest average score went to the cook-off.
Burger Wellington 2011 Results
WINNER: Café Polo (Miramar) – The Polly Burger: Zany Zeus ricotta and goat's cheese fritter with spiced beetroot, hummus and toasted walnuts in a sesame seed bun, with onion rings and hand-cut truffled fries.
RUNNER UP: Bar Saluté (Wairarapa) – Saluté Dessert Burger: Banana and kaffir lime 'patty' with candied persimmon, coconut, mango and char-grilled pineapple on Cottage Lane ciabatta, with chunky cinnamon sugared 'fries'.
THIRD: Lembas Café (Kapiti) – This Little Piggy Went to Lembas: Waikanae free range, slow-cooked pork belly with puha and apple salsa and rainbow coleslaw in Brooklyn Bread and Bagels Turkish bread, with crackling.
FOURTH EQUAL: Gusto Bistro (Petone) – Lamb Ba'ager: Moroccan-spiced lamb patty with tomato salsa and Provolone cheese on Bordeaux Bakery bread, with hand-cut chips; and The Cheeky Pipi (Island Bay) – The Cheeky Pipi Premium Beef Burger: Premium beef patty with grilled tomato, field mushroom, soft Kapiti Aorangi brie and beetroot chutney in a freshly baked bun.