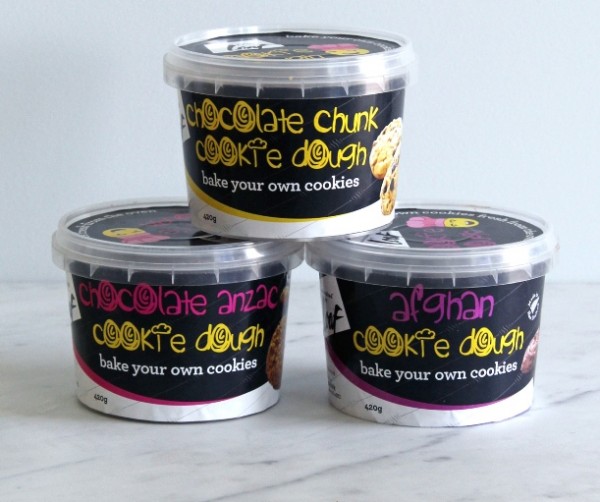 Home Baking just got a whole lot easier
There's nothing quite like the taste and smell of home baked cookies straight from the oven. The reality though, isn't quite so idealistic. There aren't enough hours in the day, the kitchen ends up looking like a bomb site with flour and dough all over the place and you have to run to the dairy to buy more butter. Never fear, Loaf has come to the rescue with their new chilled Cookie Dough.
You'll still be using wholesome, quality ingredients and can bake off as many as you want, in the size that suits you. The kids can do it themselves, just scoop out the dough, mould into a ball and press onto a baking tray – easy peasy. You can even lick the spoon afterwards! Then pop them in the oven and bake them off your way, soft baked or crispy. So good you can pass them off as your own, Loaf don't mind if you take the credit.
The range includes
chocolate chunk – a real crowd pleaser – soft and chewy with chunks of melted chocolate
afghan– A kiwi favourite – this crunchy yet delicate biscuit combines butter, chocolate and cornflakes to produce a melt in your mouth cookie – we challenge you to stop at 1!
chocolate ANZAC  – Traditional ANZAC cookie with oats, coconut and golden syrup given a decadent twist with chocolate chips
Loaf's cookie dough is the latest in a range of products designed for those that appreciate quality baking but don't have the time. All Loaf's products are handcrafted in New Zealand, by a New Zealand owned company. Baking it great, so you don't have to.
Loaf's Cookie Dough is on sale now in fridges across the North Island at New World, Moore Wilson and Nosh. For stockists visit www.loaf.co.nz  follow us on https://www.facebook.com/loafNZ or https://instagram.com/loafnz