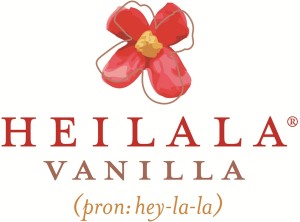 Success has never tasted sweeter, as New Zealand's only pure vanilla business celebrates 10 years this month since its first harvest in Tonga.
Since arriving on supermarket shelves, Heilala Vanilla has grown into a world-class food business, winning customers with its range of organically grown, bourbon variety pure vanilla products. The company has also won praise from the food industry and chefs alike, and now exports to more than seven countries.
Heilala, the country's only premium vanilla grower and producer, was established as an aid project after a cyclone ripped through the Tongan island of Vava'u. This led to the founding of Heilala Vanilla and the first harvest of vanilla beans in 2005. Since the first harvest, Heilala has built strong supply relationships throughout Tonga.
As well as being a huge boost for growers in Tonga, Heilala's growth and global push is proving to be good news for other vanilla producers. Heilala recently partnered with a new group of vanilla growers in Madagascar. This additional supply of vanilla beans has been selected as they match the flavour profile of the Tongan beans and will only be used when required in the manufactured product range.
Heilala is also aiming to get the vanilla industry in the Cook Islands off the ground by assisting and advising growers there. Vanilla growing is still in its early stages but Heilala hopes to include the Cook Islands in the future supply chain.
"By having continuity of supply, we can secure more customers, and more importantly, ensure long term financial security for our growers," says company co-founder and CEO, Jennifer Boggiss.
"We have seen first-hand the difference supporting growers can make to communities. Our priority, remains with building the Tongan vanilla industry and supporting the communities of Tonga through various initiatives, including the Heilala Vanilla Foundation."
Jennifer says Heilala will continue to build on the company's successes in Tonga and has a number of new and exciting long term developments in the pipeline. Among them is working with growers to increase the size of their plantations. Heilala has also identified promising vanilla-growing land areas on some of Tonga's more remote outer islands.
"From our first harvest 10 years ago to where we are today, with our products being sold around the world, has been an incredible journey," says Jennifer.
By partnering with the people of Tonga, Heilala has helped to revive the island's vanilla-growing industry. Jennifer says the business is more than just economic development. "The relationship we have with the people of Vava'u and Tonga is a very special one," she says. "The passion of those involved, both in Tonga and in New Zealand, has played a big role in the success of Heilala."
The recent explosion in foodie culture has meant there is hot demand for natural, premium food products, like Heilala Vanilla.
"Consumers not only want to buy high-quality products, they also want to know where it comes from, how it was grown and how it benefits others," says Jennifer. "Heilala is not just about selling products – it is about providing an income, a sense of pride and opportunities to small communities that may otherwise miss out."
Most recently, Heilala partnered with the Tonga National Youth Congress, with support from Oxfam NZ, to produce an extra virgin coconut oil under the Heilala brand. This product also helps support its vanilla growers.
"Producing an extra virgin coconut oil is a natural extension of the Heilala brand. It is a high-quality product which directly supports Tongan communities," says Jennifer.
From humble beginnings in the early days, Heilala's 100 percent pure vanilla products and coconut oil are today sold into retail, food service and the food manufacturing sectors. Its growth has brought the company many accolades over the years, such as being named the central North Island's fastest-growing exporter and fastest-growing manufacturer in the 2013 Deloitte Fast 50 index.
The last 10 years has seen Heilala reach many milestones, says Jennifer. "Our focus will continue to be getting Heilala into all of the best restaurant kitchens around the globe, used in the best food products and be available to home cooks through the best food retailers."
For more on Heilala Vanilla, visit: heilalavanilla.co.nz.