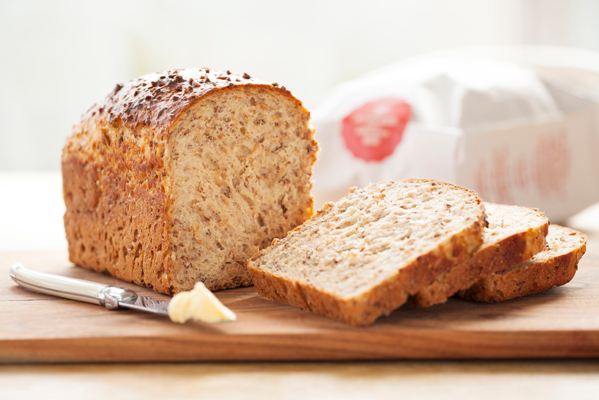 Bread and butter just got a whole lot better
Unable to find the perfect bread for his award-winning butter, Lewis Road Creamery founder Peter Cullinane decided to try to create his own.
Available in select stores from this week, the launch of Lewis Road Bakery Premium Kibbled Grain Bread marks the popular brand's first journey outside of the dairy aisle.
Each loaf of Premium Kibbled Grain Bread is made the old-fashioned way with a long fermentation of 24 hours.  This results in a bread full of both flavour and goodness with generous quantities of three types of grains.
Peter, a self-confessed 'bread and butter' man, admits he was pretty underwhelmed with what was on offer in the supermarket.
"I like bread that doesn't skimp on grain yet still has a moist, fresh texture," he says. "The way bread used to be.  And when my search for such a bread proved fruitless, I thought why not bake our own?"
Peter says he was fortunate to enlist the support of Malcolm North, one of New Zealand's most experienced bread makers, and worked with him to make a bread the way he remembered it to be back in the day.
Malcolm's recipe begins with kibbled grains that have been single cut for minimum intervention and to retain more of the natural goodness.  They are steeped overnight for natural fermentation enabling them to soften, which aids digestion and helps to unlock the whole grain benefits.
The grains are then kneaded slowly and evenly through the dough, which is then left to naturally ferment further to develop flavour.  The dough is then cut into individual loaves, which are left to rise slowly to develop a great texture.
Each loaf is then slow baked to perfection in small batches before being packaged, unsliced, in a wax paper bag to help retain freshness and delivered fresh to stores.
"Most of the mass-produced, plastic wrapped bread found in the supermarket today is made very quickly with little fermentation other than a short final proof time," says Peter.
"Our bread takes time to produce, which results in a loaf with a wonderful moist texture that stays fresher for longer and is bursting with flavour – the perfect base for our Lewis Road Creamery butters."
Lewis Road Bakery Premium Kibbled Grain Bread (RRP $6.99) is available from 29 October at select specialty food stores and supermarkets in Auckland, with wider distribution to follow.
For a list of stockists visit lewisroadcreamery.co.nz