Cauliflower is enjoying some time in the limelight and not before time too.
This often maligned and traditionally mishandled vegetable must be the most versatile vegetable, it is full of flavour and of course t it is good for you with vitamins such as A and C.
Those trying to eschew refined carbohydrates love it due to the ease in which cauliflower can be blitzed into cous cous like grains that can also emulate rice.
The perfect side dish for casseroles and other saucy dishes.
Cauliflower is also great for gluten free crusts for tarts and pizzas.
There are so many things going for it, whats not to love?
Our Favourite Cauliflower Recipes include;
Roasted Cauliflower with Tahini Dressing
This replaces the boiled cauli and cheese sauce with so much flavour and style that once tried you will never go back!
Whether you call it couscous or cauliflower rice, it is essentially one in the same.
Scatter nuts, seeds and herbs through it or keep it simple and serve as a side dish.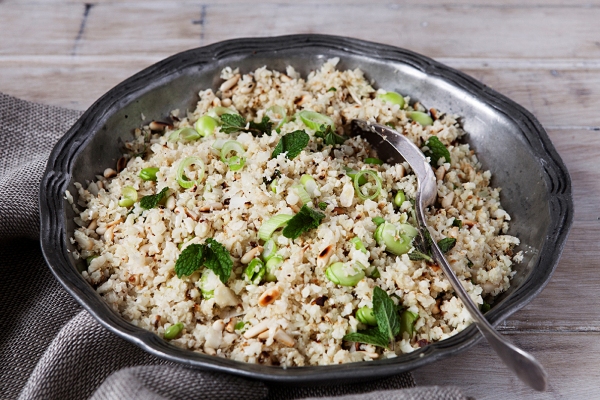 Roasted Cauliflower with Brussels Sprouts and Red Onions
Roasted vegetables are of course delicious and these are particularly tasty.

 Roast Pumpkin and Feta Tarts with Cauliflower Crust
Not just for those who are grain or gluten free, cauliflower crust adds and interesting flavour and texture to tarts.

Roasted Vegetable, Goats' Cheese and Pesto Pizza with a Cauliflower Base
Pan Fried Fish with Cauliflower Agrodolce
A classic flavour combination in Italy, the savoury sweet flavours work so well with both the fish and the cauliflower.
One of our favourite Indian appetisers with cauliflower as well as the usual onion.