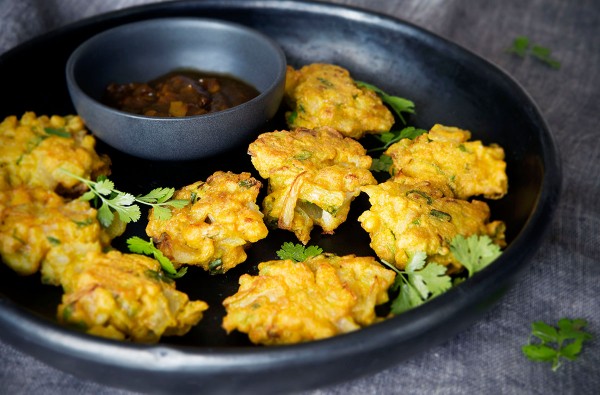 Combine all ingredients aside from the lemon juice and egg in a bowl,  make a well in the centre and pour in the lemon, egg and enough cold water to make a thick batter.
Pour oil to a depth of 2-3 cm in a deep sided frying pan and heat until a small drop of batter immediately sizzles and quickly colours.  Drop large spoonfuls of mixture into the oil and cook in batches, turning as required until golden and crisp.
Drain on paper towels, sprinkle with a little sea salt and serve hot with your favourite chutney.
Ingredients
2

large onions, finely sliced

1/2 medium sized head

cauliflower, divided into tiny florets

1 teaspoon

turmeric

1 teaspoon

ground cumin

1/2 teaspoon

cumin seeds

1/4 cup

chopped coriander leaves

1

green chilli, seeds removed and finely chopped

1/2

teaspoon chilli powder

3/4 teaspoon

salt

1/2 teaspoon

garam masala

1 cup

chickpea flour (sometimes called besan or gram flour)

1/2 teaspoon

baking powder

1 tablespoon

lemon juice

1

egg, whisked

water to mix

oil for frying