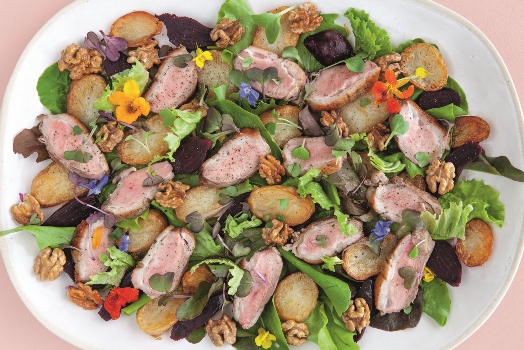 Everlasting Feast, a treasury of recipes and culinary adventures
Lauraine Jacobs
Random House
Hardback RRP $55
Recipes and images printed with permission.
This salad has become one of my signature recipes, and is a study in contrasts. It's always lovely to have the four main flavours — sweet, salty, sour and bitter — together in a dish. By adding honey to the walnuts you get the sensation of bitter and sweet at once. I also like to ensure that the salad has a few bitter greens as well as tender young sweet leaves. Duck breast served rare is the rule as it's juicy, but do remember to rest the cooked duck for at least 10 minutes.
I loved the photo Elizabeth Clarkson took of this salad for the Listener o much that I put it on the back of my business card. When we were recently in Japan, the chef in a kaiseki  restaurant in Kyoto became so excited when he saw it that he added an extra course ofquickly seared duck to our menu. It was superb.
By
Ingredients
10 baby beetroot

2 large waxy potatoes

3 tbsp duck fat

handful of fresh walnuts

1 tbsp liquid honey

3 tbsp olive oil

2 large duck breasts

3 cups fresh mixed salad leaves and herbs

few opal basil leaves and herb flowers to decorate j

uice of 1 lemon
Method
Pre-heat the oven to 170°C. Prepare all the ingredients. Boil the baby beetroot in water until tender (about 25 minutes), then peel and cut into halves. Peel and slice the potatoes and blanch in boiling water for 5 minutes. Melt the duck fat in a heavy frying pan, and gently fry the potatoes until golden and tender. Toss the walnuts in a roasting pan, coating with the honey and 1 tablespoon of the oil, and roast in the oven for 5–7 minutes until they are crisp. Turn out onto baking paper and allow to cool. Slash the duck skin in a criss-cross pattern and generously season both sides with salt and freshly ground black pepper. Heat the remaining oil in a heavy-bottomed frying pan and add the duck, skinside down. Reduce the heat to low, and cook for 15 minutes until the skin is crisp and much of the fat has been released. Turn the breast over and cook for 2–3 minutes. Remove and allow the duck breasts to rest for 10 minutes before slicing. To assemble the salad, wash the leaves and herbs, dry them carefully and spread on a large serving platter. Evenly scatter the beetroot, potatoes, walnuts and duck slices over. Finish with the basil leaves and flowers, and drizzle a little of the hot duck fat and the lemon juice over everything.