These are deliciously moist and receive rave reviews.  The cardamom gives a lovely perfume but alternatively you could use cinnamon.
While they are more manageable to eat when cool I must admit to loving them warm from the oven.
175 g butter, melted
1 1/3 cups icing sugar
1/2 cup plain flour
1/2 teaspoon ground cardamom
1 cup ground almonds
5 egg whites, lightly whisked
1 cup stewed apple, chopped into 1 cm dice
1/3 cup slivered almonds
Preheat the oven to 180 C.
Using a little of the melted butter, grease 10 muffin or friand moulds.  Sift together the icing sugar, flour and cardamom and then mix in the ground almonds.  Fold through the egg whites and apple.
Spoon mixture into moulds and sprinkle with slivered almonds.
Bake for 20 minutes until friands are golden and springy to the touch.
Allow to cool for 5 minutes in the moulds and then gently remove and sit on a wire cake rack.
[homepage]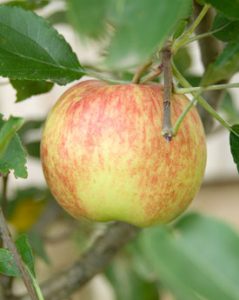 [/homepage]
[smallimage]

[/smallimage]