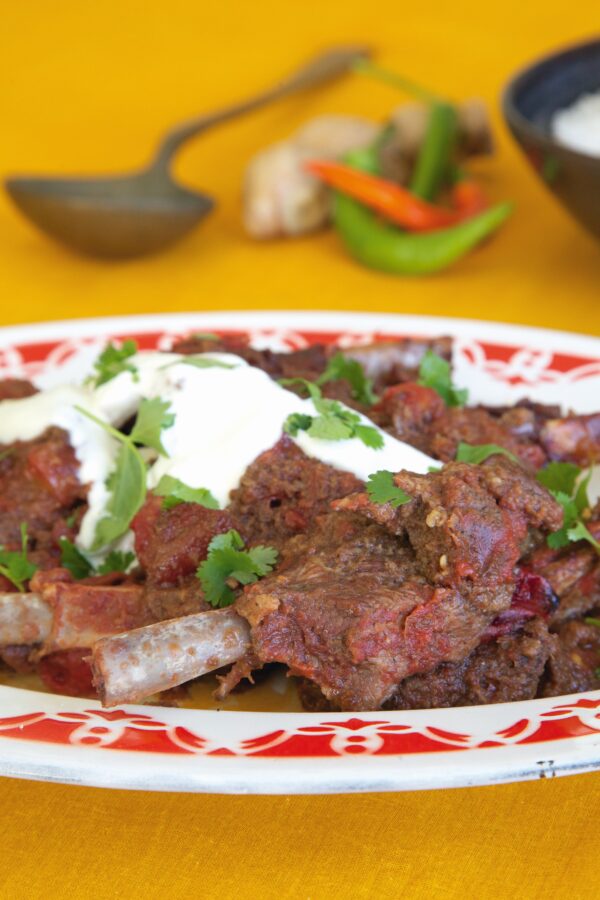 These baked chops drive me wild and, even as party food, they're worth the
messiness — just provide guests with plenty of serviettes!
Nici Wickes

You will need:
8 lamb cutlets, trimmed
(I use lamb racks)
1 x 3 cm piece ginger,
peeled and roughly
chopped
2 onions, chopped
4 cloves garlic, peeled
1 red chilli, deseeded and
roughly chopped
2 tsp garam masala
1 tsp ground cumin
1½ tsp cayenne pepper
1 tsp chilli powder
4 tbsp cooking oil
1 x 400 g can chopped
tomatoes
2 tbsp lemon juice
1 tsp sea salt, or to taste
1 cup natural, unsweetened
yoghurt
coriander leaves, to garnish
By
Method
What to do:
Preheat oven to 200°C.
Trim off any excess fat around the chops, or get your butcher to do this.
Make a paste by putting the fresh ginger, onions, garlic, chilli, garam masala, cumin, cayenne pepper, chilli powder and 2 tbsp oil in a food processor or blender and process to
a paste.
Heat 2 tbsp oil in a heavy-based ovenproof pan, pour in the paste and fry for 5–7 minutes until the spices give off their aroma and the onion pulp has begun to cook. Add
the chops, tomatoes, lemon juice and salt and bring to a simmer.
Cover and bake for 30–45 minutes until the chops are tender and the sauce is thick. Remove the cover for the last 10–15 minutes, stir in the yoghurt (reserving 2 tbsp for
garnishing) and allow the sauce and chops to deepen in colour as they finish cooking.
Just before serving, drizzle with yoghurt and garnish with fresh coriander.