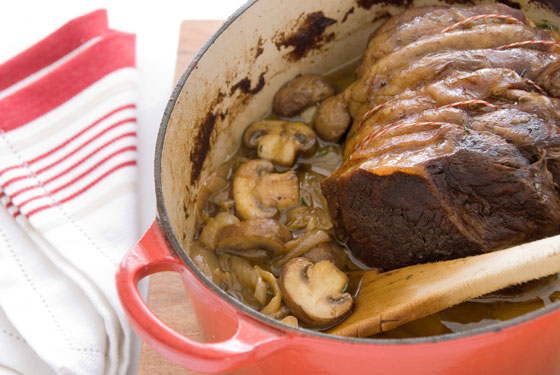 While I advocate using a cast iron casserole you can always use a large saucepan or frying pan for browning and then transfer to a ceramic casserole.
If you find the sauce is to thin then remove the meat, onions and mushrooms and reduce the sauce on the stove top until it has thickened.
Serves 6.
Ingredients
1.5kg

piece of bolar beef, tied with string

sea salt and freshly ground black pepper

12

pickling onions

2

slices middle bacon

needles from a 20 cm long sprig of rosemary

50g

butter

1

tablespoon olive oil

250g

punnet swiss brown or button mushrooms, halved

150ml

red wine vinegar

300mls

cream
Method
Preheat the oven to 170 C
Season the meat with salt and freshly ground black pepper and allow to sit at room temperature for an hour or so.
Peel the onions leaving the root end attached, this keeps the onions whole. Finely chop the bacon and rosemary needles.
Heat the butter and oil in a cast iron casserole and brown the meat on all sides. Add the onions, rosemary, bacon and mushrooms and cook for 5 minutes, pour over the vinegar and boil for 3 minutes. Meanwhile heat the cream in a saucepan until almost boiling and then pour into the casserole. Tightly cover and cook in the oven for 1 hour, reduce heat to 150 C and continue to cook for another 2 ½ hours.