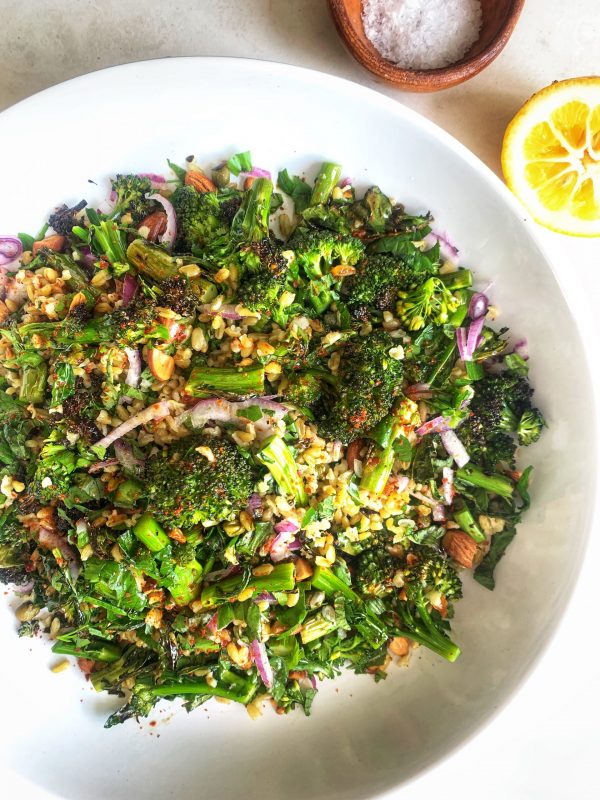 Freekeh has a wonderful smoky flavour and a chewy texture.  It is available at my local supermarket but you can swap for farro, brown or red rice, quinoa or bulghur wheat.
Serve this as a stand alone meal or alongside roasted or grilled meat.
Ingredients
1 cup

freekeh (or brown rice, quinoa, bulghur wheat)

250g

broccolini

olive oil

1 small

red onion, finely sliced

1/2 cup

basil leaves, roughly chopped

1/2 cup

mint leaves, roughly chopped

1/2 cup

Italian parsley leaves, roughly chopped

1 tablespoon

capers, drained

1/2 cup

almonds, toasted and roughly chopped

1/2 teaspoon

Aleppo red pepper flakes (or sumac)

1/4 cup

olive oil

2 tablespoons

lemon juice
Method
Cook the freekeh in large pot of boiling salted water for 15-20 minutes until just tender but still chewy.  Drain well and set aside.
Heat a large frying pan (or barbecue) over a medium high heat and char-grill the broccolini with a splash of olive oil until starting to colour and crisp at the edges and just tender.
Set the broccolini aside for a few minutes before chopping into 3-4cm lengths.
Combine the freekeh, broccolini, red onion, herbs and almonds in a large salad bowl.
Whisk together the olive oil and lemon juice, season with salt and freshly ground black pepper.  Drizzle over the salad and toss to combine.
Sprinkle with the red pepper flakes and serve.
Left over salad will last in the fridge for several days.