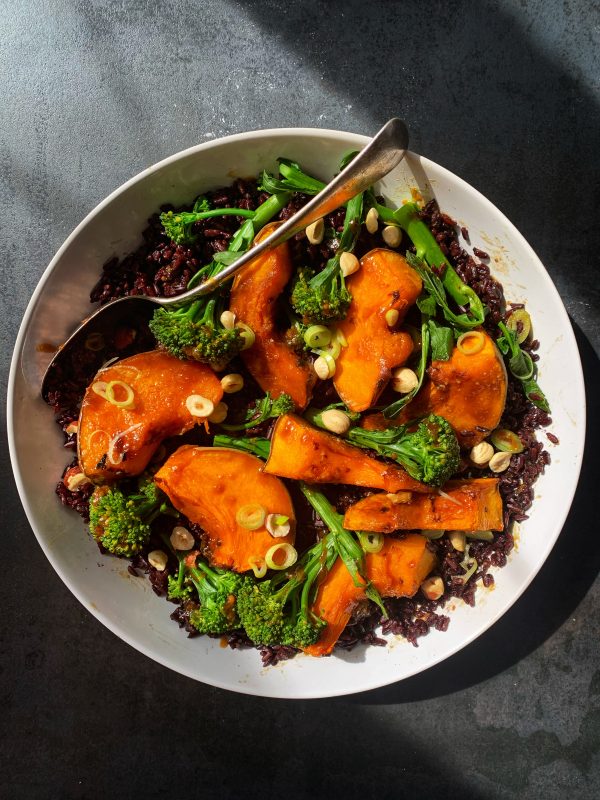 This salad is comforting and flavour overload, perfect for colder months.
It is great as a stand alone light meal or alongside other dishes such as roasted meats.
I choose Jasberry rice for its lovely nutty flavour and extra nutrition. Also their story is heartwarming.
I like to use the lovely Urban Hippie miso paste from Nelson NZ.
Ingredients
1 cup

Jasberry rice

550g

pumpkin, chopped into chunks

2 tablespoons

mild olive oil

2 tablespoons

soy sauce

2 tablespoons

rice wine vinegar

2 tablespoons

maple syrup

1 tablespoon

white miso paste (I use Urban Hippie)

1 teaspoon

grated fresh ginger

1/4 cup

hazelnuts

250g (8.8oz)

broccolini

3

spring onions, trimmed and finely sliced
Method
Preheat the oven to 200 C,
Place 1 cup of rice in a saucepan and cover with 2 1/2 cups cold water.  Bring to the boil and then cover and simmer for 30 minutes until the water is absorbed.
At the same time toss the pumpkin with the oil in a roasting dish and cook for 25 minutes until tender.
While the pumpkin and rice are cooking, combine the soy sauce, rice vinegar, maple syrup, miso and ginger in a small saucepan.  Whisk over a medium heat until it starts to bubble and then remove the pan from the heat.
When the pumpkin is almost cooked then drizzle the caramel miso over and continue to cook until tender.
At the same time toast the nuts for about 5 minutes in a small dish in the oven, then  roughly chop.
Lightly cook the broccolini in a saucepan of simmering water.
Arrange the rice in a serving dish, place pumpkin and broccolini on top