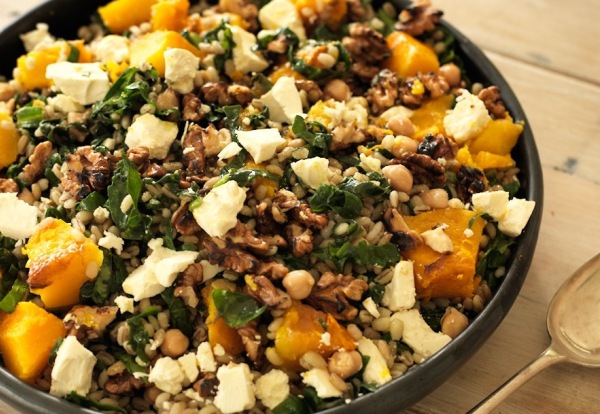 Ingredients
300g pumpkin, chopped into 3cm chunks

4 cloves garlic, skin on

1 cup pearl barley

2 bunches spinach, rinsed

1/3 cup extra virgin olive oil

½ teaspoon salt

2 ½ tablespoons lemon juice

1 teaspoon Dijon mustard

400g can chickpeas, drained and rinsed

100g feta, crumbled

½ cup walnuts, lightly toasted
Method
1. Preheat the oven to 180 C.  Toss the pumpkin with a little oil and then arrange it in a single layer in a roasting dish along with the garlic and cook for 20 minutes or until the pumpkin is tender and starting to colour.
2. At the same time cook the barley in a large saucepan of boiling water for 30 minutes or until just tender to the bite.
Drain well and then return the barley to the saucepan and toss with the spinach.  Cover and set aside for 5 minutes.
3. Squeeze the garlic pulp from the skin and place in a small bowl along with the olive oil, salt, lemon juice and mustard.  Mix well, ensuring the garlic is incorporated into the dressing.
4.  Combine the barley, spinach, chickpeas, pumpkin, feta and walnuts in a large bowl and gently toss to combine.
5. Drizzle with the dressing, toss again and serve.