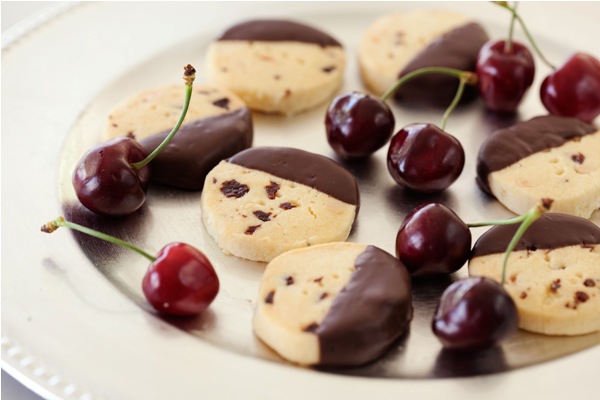 Ingredients
250g

butter, slightly softened

3/4 cup

caster sugar

2 cups

plain flour

1/2 cup

cornflour

1/2 cup

blanched almonds, toasted and finely chopped

1/2 cup

dried cherries, chopped

150g

dark chocolate
Method
Beat butter and sugar together until pale and creamy.  Add flours, almonds and cherries and mix until combined.  Tip dough out onto a bench and lightly knead and then shape into 3 logs approximately 4cm in diameter.   Wrap in kitchen paper or plastic clingfilm and refrigerate for 30 minutes or longer.  They can also be frozen at this stage.
Preheat oven to 160 C.  Slice shortbread logs into thin slices and place on a cold, lined tray.  Bake for 16-20 minutes until firm and just starting to colour.
Cool on a wire rack.
Melt chocolate either in a bowl over a saucepan of simmering water or in the microwave on reduced heat.  Dip shortbread into chocolate and then place on a foil lined board or bench until set.  Store in an airtight container.