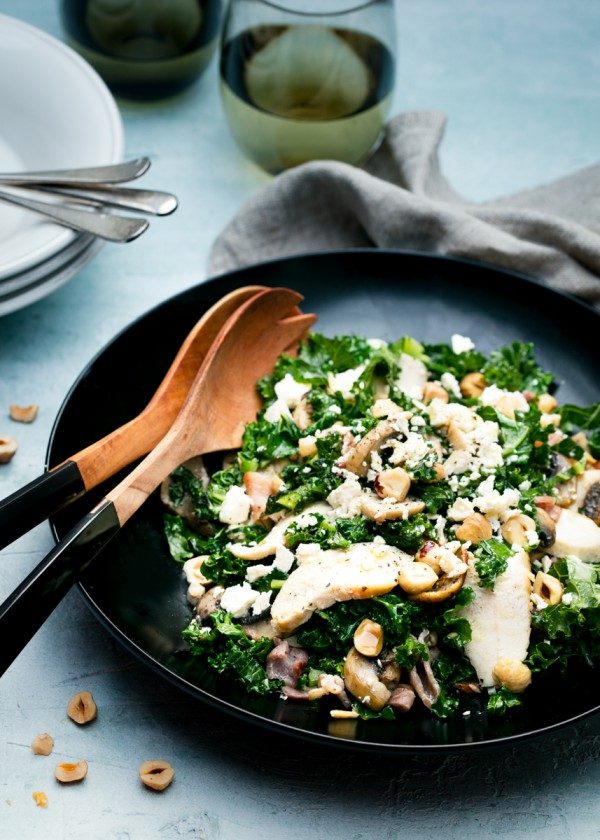 A tasty salad for those cooler evenings when you need a little warmth.
Ingredients
4 free range chicken breasts

2-3 tablespoons olive oil

salt and freshly ground black pepper

300g kale, roughly chopped

1/2 cup hazelnuts, lightly toasted

100g

feta, crumbled

2 tablespoons

extra virgin olive oil

2 tablespoons

balsamic vinegar

2 teaspoons

Dijon mustard

pinch of

sugar
Method
Heat a frying pan over a medium heat, add a generous drizzle of oil and cook the chicken for 5-7 minutes on each side. Season with salt and freshly ground black pepper.
Remove the cooked chicken from the pan and set aside to rest.
Return the pan to the heat and add the kale to the pan, cook until just softened.
While the kale is cooking, slice the chicken.
Combine the kale, chicken, feta and hazelnuts in a large bowl.
Whisk together the olive oil, balsamic vinegar, mustard and sugar in a small bowl.
Drizzle over the salad and serve immediately.