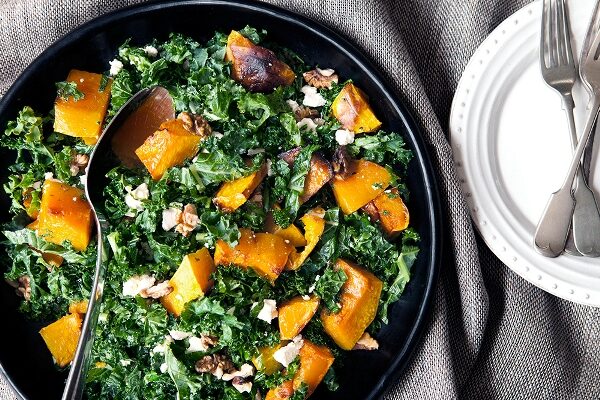 Ingredients
600g

pumpkin

1/2 cup

walnut halves or quarters

2 tablespoons

maple syrup

3 large handfuls

finely chopped kale

100g

feta, finely crumbled

extra virgin olive oil
Method
Preheat the oven to 190 C.
Chop the pumpkin into rough chunks approximately 2-3 cm in diameter.
Toss the pumpkin with a little olive oil, season with salt and pepper and roast for 25 minutes until almost tender. Add the walnuts to the pan and return to the oven for 5 minutes, then drizzle over the the maple syrup and then cook a further 5 minutes until the pumpkin starts to caramelise.
Remove the pan from the oven and add the kale to the pan, toss to combine and then set aside for a few minutes, allowing the kale to wilt a little.
Transfer the pumpkin and kale to a salad bowl and sprinkle with walnuts and feta.
Drizzle with a little extra virgin olive oil and serve warm or at room temperature.