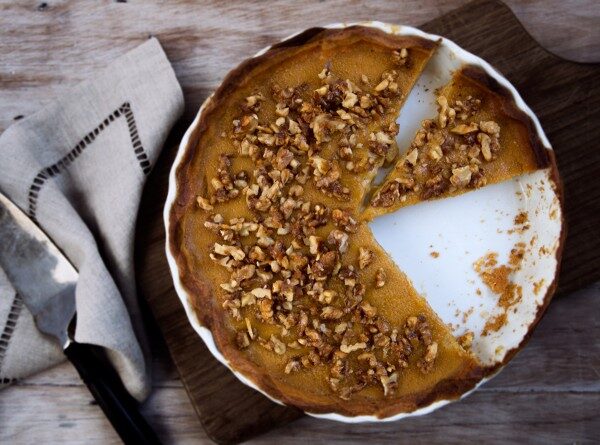 Ingredients
350g

sweet short pastry

1 cup

cooked pumpkin (I use crown pumpkin, make sure it is cooked with minimal water)

2

eggs

3/4 cup

packed brown sugar

1/2 teaspoon

salt

1/2 teaspoon

cinnamon

1/2 teaspoon

ginger

1/2 teaspoon

mixed spice

3/4 cup

full cream milk

1/2 cup

cream

25g butter

pinch salt

1/2 teaspoon

cinnamon

3/4 cup

walnut pieces

2-3 tablepooons

maple syrup
Method
Preheat the oven to 200 C.
Line a 24cm flan pan with pastry and then bake blind for 15 minutes until pastry edges are starting to colour.  Remove weights and cook a further 5 minutes.
Meanwhile puree the pumpkin, eggs, sugar and spices in a blender until smooth.
Add milk and cream and pulse until combined.
Reduce the oven heat to 180 C.
Pour the pumpkin mixture into the tart shell and bake for 30 minutes or until almost set but with a slight wobble in the centre.  Allow to cool to room temperature.
Melt the butter in a small frying pan over a moderate heat, add walnuts, salt and cinnamon and toss for a couple of minutes.  Add maple syrup and stir so that the nuts are well coated, cook for several minutes more until the nuts are sticky.  Turn out onto a baking paper lined board and allow to cool before chopping into small pieces.