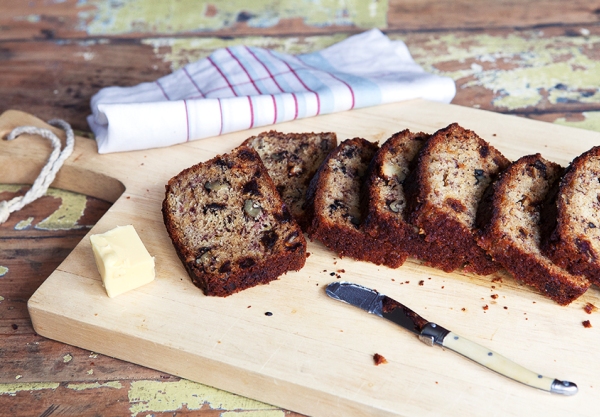 By baking the bananas first you get a lovely intense banana flavour.
Make sure too that your bananas are nice and ripe as they have the best flavour and the most sugar.
Ingredients
2 bananas (large)

1/2 cup oil eg rice bran

3/4 cup sugar

2 eggs

1 1/2 cups flour

pinch of salt

1 1/2 teaspoons baking soda

1/2 cup yoghurt

1 cup dates, roughly chopped

1/2 cup roughly chopped walnuts
Method
Preheat the oven to 170 C and line a 25cm loaf pan with baking paper.
Place the bananas in the oven while it is heating and allow to cook for about 10 minutes or until darkened and soft.  Once they have cooled a little then peel and mash.
Beat the oil and sugar until pale.  Add the eggs, one at a time and mix well.
Add bananas and then flour and salt and the baking soda mixed with the yoghurt.  Lastly mix in dates and walnuts.
Spoon batter into the prepared tin and bake for 50 minutes or until a skewer inserted comes out clear.
Allow to cool on a wire rack and then store in an airtight container.