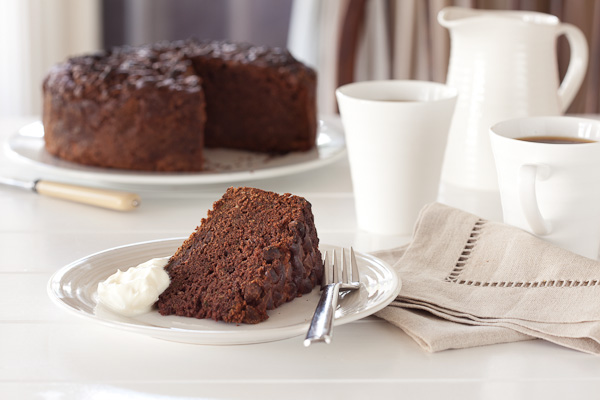 Ingredients
125g butter
1 cup brown sugar
1/2 cup white sugar
3 eggs
2 1/2 cups flour
1 teaspoon vanilla essence
1/2 cup yoghurt
1/4 cup cocoa
2 teaspoons baking soda
1 teaspoon cinnamon
1/2 teaspoon mixed spice
2 teaspoons baking powder
3 cups (350g) grated zucchini
1 cup chocolate chips
Method
Preheat oven to 170 C. Grease and flour or line a 24cm cake tin. Beat butter and sugar until light and fluffy, add eggs one at a time with a spoonful of flour, beating
well after each addition. Add the vanilla essence and yoghurt and mix well.
Sift the dry ingredients together and add with the zucchini to the mixture.
Stir gently to combine, do not over mix. Pour batter into prepared tin and
sprinkle with chocolate chips. Bake for 45 minutes – 1 hour or until centre feels
firm and a skewer comes out clean. Serve with whipped cream.