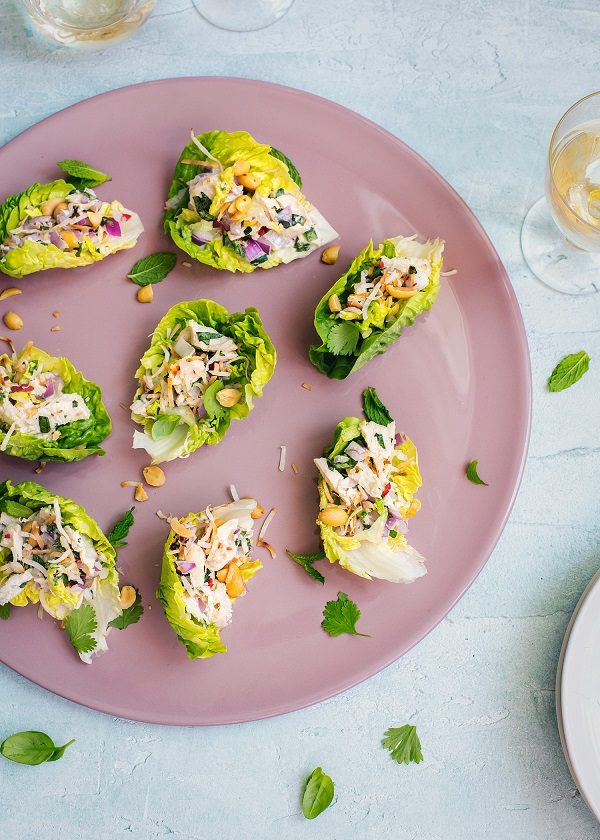 Ingredients
150g

Rangitikei chicken breast fillet, skin off

1 cup

coconut cream

1 tablespoon

fish sauce

1 clove

garlic, finely chopped

pinch

dried chilli flakes

1

kaffir lime leaf, shredded (optional)

juice of 1 lime

1/2

red onion, diced

1/4 cup

basil leaves

1/4 cup

mint leaves

1/4 cup

coriander leaves

1/4 cup

roasted salted peanuts, roughly chopped

15 baby lettuce leaves

1/4 cup

coconut thread, lightly toasted
Method
Place the chicken in a small saucepan along with the coconut cream, fish sauce, garlic, chilli flakes, kaffir lime leaf and 1/4 cup cold water.
Gently simmer until the chicken is cooked.  Allow to cool in the coconut cream and then shred the chicken and reserve the liquid.
Roughly chop the basil, mint and coriander, leaving some small leaves intact for garnish.
Combine the chicken, herbs, red onion and peanuts together in a bowl. Drizzle over 1/2 cup of the cooled coconut cream and add the lime juice. Toss to combine. Taste and season with a little salt if needed.
Arrange lettuce leaves on a platter and top with chicken mixture.
Sprinkle with toasted coconut and serve.