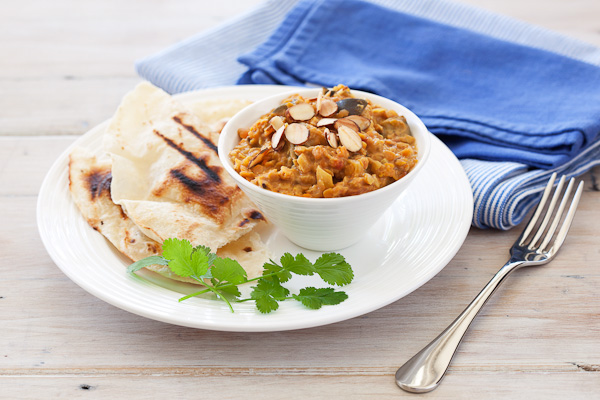 Adapted from Tara's dahl recipe.
Ingredients
1

large onion

2

tablespoons oil

2 cloves garlic, finely chopped

2

teaspoons mustard seeds

2

teaspoons grated fresh ginger

2

teaspoons ground tumeric

1

teaspoon chilli powder

1 1/2

teaspoons ground cumin

1

teaspoon garam masala

1 teaspoon ground coriander

1 eggplant

1 cup red lentils

400g can coconut milk

400g can crushed tomatoes

salt

1/4 cup toasted flaked almonds

4 Bazaar Roti
Method
Finely chop onion, heat oil in a large saucepan and gently cook onion until just tender.  Add spices and garlic to the pan and continue to cook until spices are fragrant.  Chop eggplant into small chunks approximately 2cm and add to the saucepan.  Toss to combine and cook for 2-3 minutes, add a little more oil if needed.
Add lentils, coconut milk, tomatoes, 1 cup of cold water and a generous sprinkle of salt.  Bring to the boil and then reduce to a simmer and cook for 1 hour or until lentils are tender.
Heat a griddle pan or sandwich press and heat roti until hot and starting to blister.  Tear into halves or quarters and serve alongside dahl with a sprinkle of almonds.