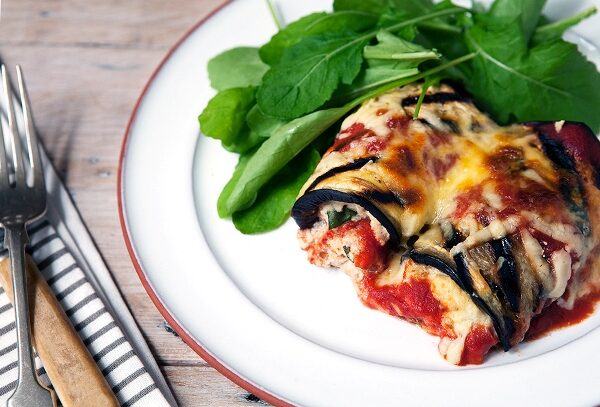 Ingredients
1 large eggplant sliced lengthways ( 8 slices)

2 red peppers (capsicum) grilled, skin removed and finely chopped

1/4 cup pine nuts, lightly toasted

1/2 cup fresh breadcrumbs

1 egg, lightly whisked

250g (8oz) ricotta cheese

1/4 cup freshly grated parmesan

2 tablespoons freshly chopped basil

Tomato sauce

1 tablespoon olive oil

1 small red onion, finely chopped

2 cloves garlic finely chopped

2 tablespoon tomato paste

400g can finely chopped, peeled & seeded tomatoes

1/4 cup white wine

handful chopped fresh basil leaves

1/4 cup extra grated parmesan cheese for sprinkling on top
Method
Brush the eggplant slices with olive oil and cook on a barbecue, frying pan or oven at 180 C (350 F), until well coloured but not burnt.
In a large bowl mix together the red pepper, pine nuts, breadcrumbs, egg, ricotta, parmesan and basil.  Season with salt and freshly ground black pepper.
Divide the mixture evenly between the eggplant slices and roll up tightly. Place the rolls in a single layer into a lightly buttered oven proof dish . Top with the tomato sauce, sprinkle with grated parmesan cheese and cook in the 180 C oven for 25-30 minutes until golden.
Gently heat the olive oil in a saucepan, add the onions and garlic, cook gently until the onions have softened, do not colour the onions. Add the tomato paste and stir well over the heat for 1 minute. Add the tomatoes and wine, simmer for 10-15 minutes until slightly thickened. Season with salt and pepper and add the chopped basil.