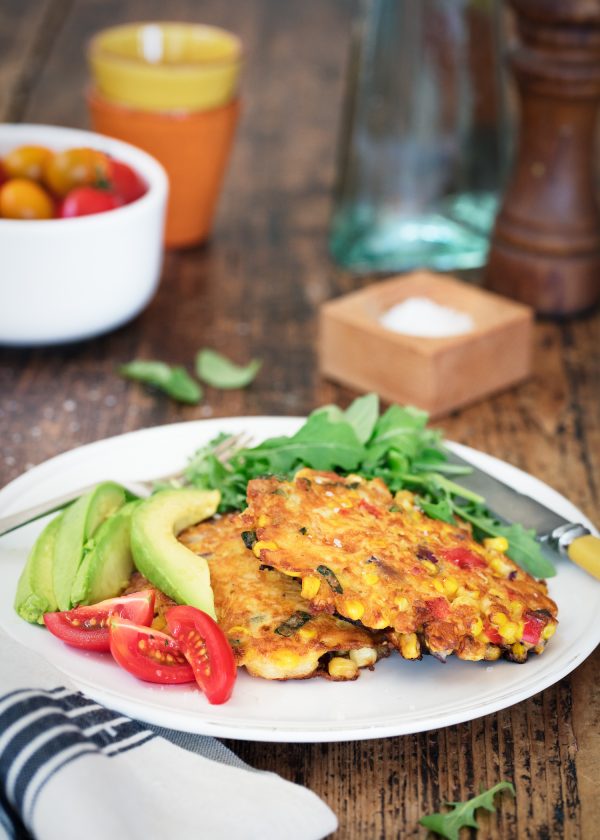 I love the crunchy texture of these fritters and the flavours are fantastic too.
Swap feta for the halloumi if you would rather but the little melting pools of cheese are pretty good.
Ingredients
3-4

corn cobs (or 3 cups corn kernels, can use frozen)

1/2

red onion, diced

1/2

red capsicum, diced

150g

halloumi cheese, diced

1/4 cup

chopped fresh herbs (basil, coriander, parsley...)

1/3 cup

rice flour

2

eggs, lightly whisked

salt and freshly ground black pepper

25g butter

2 tablespoons olive oil
Method
Cut the kernels from the corn cobs using a large chefs knife.
In a large bowl combine the corn, onion, capsicum, halloumi, herbs and flour.
Add the eggs and mix to combine, season with salt and pepper.
Melt the butter with olive oil in a large frying pan over a moderate heat.
When the butter starts to bubble Cook large spoonfuls of mixture in batches until golden on each side and cooked through.  This will take about 5 minutes.
Set side and keep warm until remaining fritters are cooked.