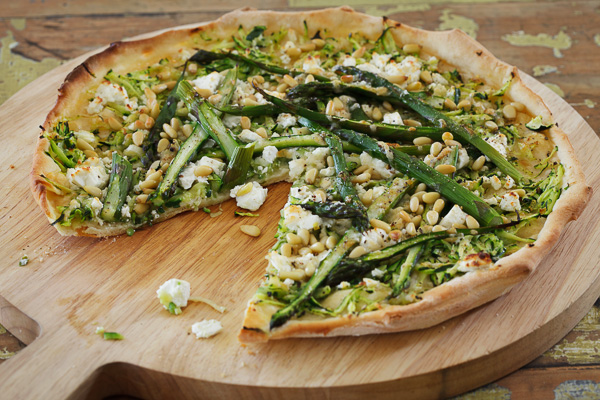 Asparagus season is here and we have a list of fabulous recipes to help you make the most from your green jeweled stems.
Selecting and preparing asparagus
Always look for stems that are firm and crisp.  Pick bunches where stems are of similar size and leave behind any with dry split stems.
Thick or thin spears is really just a matter of personal preference.
Snap asparagus ends off where they naturally break when you bend them.  These can be stored in a sealable plastic bag in the freezer and used for asparagus soup at a later date.
To store asparagus, leave the rubber band on the bunch and stand with spears pointing upwards in a small jug with about 5cm of water in the base.  Place a small plastic bag over the top and then store in the fridge for up to a week.  Change the water every few days.
Cooking Asparagus
I personally like cooking asparagus on a griddle plate with a drizzle of oil, you can also grill or roast it.
When cooking in water, drop spears into rapidly boiling water with a sprinkle of salt, cook for approximately 5 minutes or until the spear can just bend over touch the base.  Remove from the water and serve with butter or extra virgin olive oil.
Our Top 10 Asparagus Recipe Picks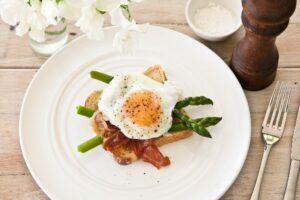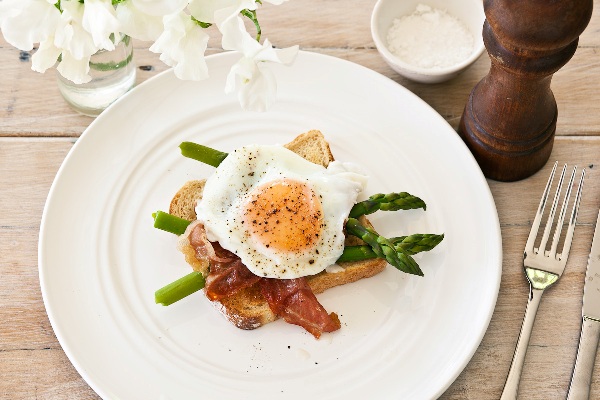 Asparagus, prosciutto and poached eggs on toast.
Not that this needs a recipe but it is a delicious way to start the day.
Farro Salad with Asparagus, Peas and Feta
Great with frozen peas but amazing with fresh peas from the garden.
Asparagus with Goats' Cheese, Pine nuts and Currants
Serve alongside grilled meats or as part of a shared plate meal.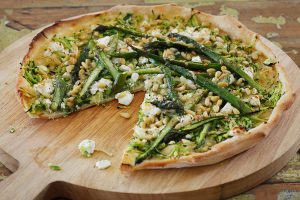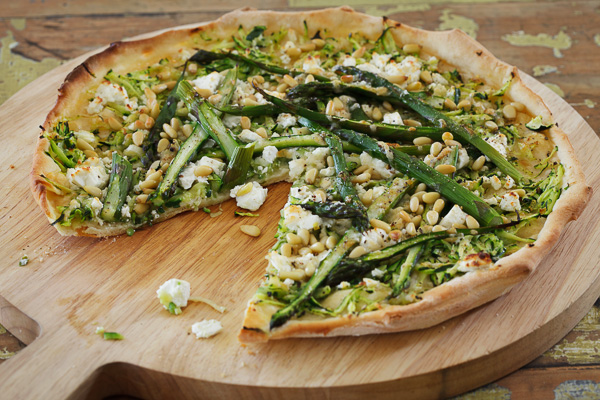 Asparagus, Courgette and Pine Nut Pizza
A light and healthy version to a traditional pizza.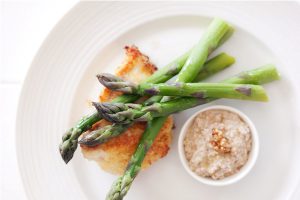 Asparagus Spears with Tarator Sauce
Asparagus, Courgette and Prosciutto Tart
Simple to make and very delicious to eat.
Risotto with Asparagus and Broad Beans
We use farro but you can always use rice if you would rather.
Asparagus, Cherry Tomato and Halloumi Salad
Full of flavour, colour and texture.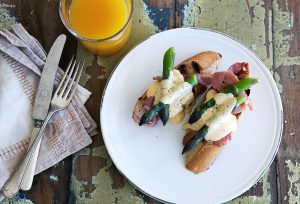 Asparagus and Hollandaise
A classic combination made easy with easy blender hollandaise sauce.
Prawn, Asparagus and Dill Blinis
Great for spring canapes.