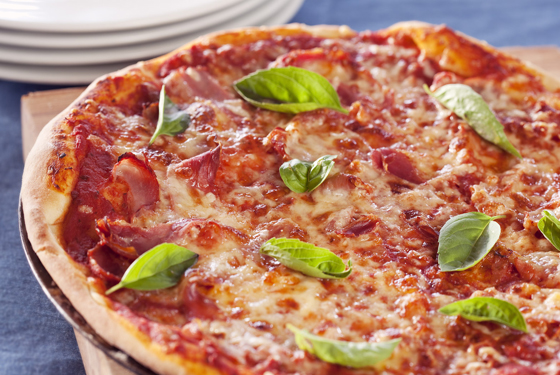 Virgil Evetts
I find  that analysing people's pizza preferences is a useful, if highly unscientific, means of personality profiling. For example, people who favour thin-crust wood-fired Margheritas are typically dashing, intelligent and in possession of the most discerning tastes and rapier-sharp wit. At the other end of the spectrum, the less said about fans of grease-sodden franchise-extruded Hawaiians (pizzi that is) the better. Have I ever told you that I really like a well executed Margherita (pizza that is)?
Everybody thinks they can make pizza. It's considered a convenience food, and it should be too. A wood-fired pizza cooks in about 90 seconds, and while it will take you a bit longer at home it certainly isn't a slow-cooked affair. So why, then, do homemade pizzi so often fall short of expectations? I will tell you why. Soon. But first, a little history.
The Italians like to claim absolute ownership of the pizza, and as the current custodians and greatest living masters of this subtle art, fair enough. However, despite what they may tell you about pizza being invented in Napoli about 1000 years ago, the dish is far, far older still and can be found in one form or another in pretty much every cuisine which features bread. Both the Ancient Egyptians and Greeks produced flat breads covered in cheese, honey and herbs – the descendants of the latter still do. Similar breads were and still are eaten in throughout the Middle East too. Pizza arrived when Rome was but a twinkle in Jove's eye.
A little-known truth about the ancient Romans is that they were not big on invention and innovation. They preferred to steal from others, and were particularly free and easy when it came to pilfering from and oppressing the Greeks. It no surprise that they eventually appropriated the ancestral pizza and promptly rebranded it  as 'placenta'. Tasty. Interestingly in pre-Roman-times Napoli, now the home of Italian pizza, was part of a large Greek colony. Suspiciously pizza-like carbonised bread has even been found in the ruins of nearby Pompeii. 'Placenta' fell out of usage in favour of 'pizza' – or picea to use its earlier iteration – around 1000 A.D. It remained however a fairly obscure peasant dish until the 1700s, when a version baked with tomato, mozzarella and anchovies became popular with all classes of society, and was much talked about Italy-wide. Over the next century pizza was mentioned with fondness in poetry, literature and even opera. For visitors to Napoli – then considered something of a resort town for the rich and famous (i.e. before the Camorra turned much of the city into a dangerous, heroin-fuelled slum) -partaking of a slice on the curb side was an essential part of any itinerary. The Bourbon Queen, Maria Carolina, would eat little else and even had a pizza oven built in her palazzo. (An affectation which would be repeated by the middle classes of the western world centuries later.) But the pivotal moment in history for Napolese pizza came in 1889, when the Margherita pizza was created. Baker to the stars, Raffaelle Esposito, was summoned to cook for visiting Italian monarchs Umberto the 1st and his buxom squeeze, Queen Margherita. He offered up 3 different pizzi to the royal couple, including an ill-advised blend of pork fat and cheese. But it was the unassuming tomato, mozzarella di buffula and basil that really caught their attention. The Queen particularly appreciated the pizza's visual reference to the red, white and green flag of the still quite-recently unified Italian Republic. Within days the 'Margherita' was being peddled to the punters city-wide. Everyone wanted to show their patriotism and eat like a Queen. Strange really, considering the royal couple were widely despised as relics of the recently abolished feudal past. I'm sure Umberto's preposterous moustache didn't help either.   
Patriotism aside, pizza was and still is a cheap, nutritious and most importantly great-tasting food in Italy. It quickly spread throughout the country, developing local nuances wherever it settled, and eventually made its way across the world with Italian migrants. Napolese pizza is officially still considered the benchmark though. It even has the coveted (but highly restrictive) Specialità Tradizionale Garantita status, making it a national culinary treasure. Only three official toppings are permitted under the status – Margherita, Margherita Extra and Marinara. Even then, the pizzi must be made with doppio zero (high protein) flour and local Napolese water. The toppings must use Campania mozzarella (preferably, but not exclusively, made from water buffalo milk), San Marzano tomatoes (which have their own protection appellation), and finally the pizzi must be cooked in a wood-fired oven. The Italian government has taken gleeful bureaucratic delight in applying similarly rigid EU protection to many of their most prized artisanal products. Obviously this is a very good thing, as the onward march of supermarkets and fast food franchises has already done much harm to the nation's food and eating habits; but as with most EU meddling, it's not half stifling.
Protection aside, within Italy today debate rages as to which region produces the best pizza. Parochialism tends to dictate. As a filthy foreigner I have no such obligations, and am going to put my hand up for Rome. Roman pizza typically has a very thin crust, making the finished pizza smoky, crisp and simply delicious. As long as it's not pineapple, anything goes toppings-wise too. Sorry Napoli, you've been usurped.
So. How does one make a decent pizza at home? I'm going assume you do not have a wood-fired pizza oven in your kitchen or backyard. These are a fine and fashionable conceit, but are highly impractical in most domestic situations. A conventional electric or gas oven can turn out a very decent pizza, it just takes a little longer to cook than the above. Everything you need to know about cooking the perfect pizza can broken down in to some basic do's and don'ts. I've spent years of trial and infuriating effort compiling these, so use them well.
Do' s and don'ts
Do
Do make your own dough. Click here for a very good recipe.
Do use good-quality pre-made bases if you must. These ones are very good. 
Do use a pizza stone if you have one. A large terracotta saucer or inverted cast iron skillet will do at a pinch.
Do preheat your oven (including pizza stone etc) to its maximum temperature.
Do use the sauce recipe below
Do spread the sauce thinly over the base. Too much sauce makes for floppy, wet pizza.
Do use the best-quality mozzarella you can afford. For an ultra-luxe experience use Clevedon valley buffalo mozzarella. This is hands down one of New Zealand's finest cheeses.
Do keep your toppings sparse. An overloaded pizza steams rather than bakes.
Do – ALWAYS – put the topping (apart from the sauce) on top of the cheese. NEVER under.
Do add basil, rocket and raw-cured meats such as prosciutto after the pizza is cooked. These ingredients are spoiled by baking.
Do use good-quality anchovies on pizza. Ortiz brand is a true revelation and may well change your mind about this product.
Do drizzle olive oil over your pizza before baking. This helps to cook the topping evenly.
Do sprinkle dried oregano over your pizza. Never fresh.
Do use un-pitted Kalamata olives on your pizza.
Do use a pizza paddle (sprinkled with polenta) to shoot your pizza into the oven. (Particularly important when using raw dough.)
Do enjoy pizza with friends and loved ones. It's the ultimate social food.
Don't
Don't use raw onion or shallots on pizza. They never cook properly and will taste rank and sweaty.
Don't use raw peppers – they will remain firm and bitter
Don't use green peppers EVER. Anywhere. Nasty, nasty things.
Don't put pineapple on a pizza. I don't care if you like it. It's wrong.
Don't use grated cheese. It smothers the base and cause's sogginess. Always tear.
Don't use dried basil. Ever.
Don't overcook. At 270c and using a pizza stone, most pizza will be perfectly cooked in about 12 minutes. Watch closely.
Don't get too clever. A few well-matched flavours are infinitely preferable to a heaving pile of everything.
No- Cook Pizza sauce
Ingredients
1 tin of Italian tomatoes – drained
2 tablespoons olive oil
1 small dried chilli
1 teaspoon salt
Small handful of basil leaves
Method
Add all ingredients to a food processor and blend until very smooth. Sufficient for 3 large pizzi
Tell us about your favourite pizza toppings. Here are a couple we like…