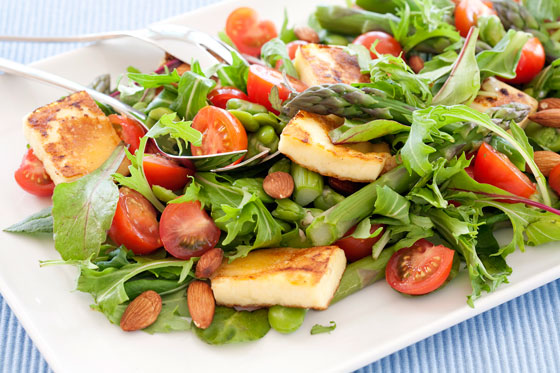 Serves 4-6
Ingredients
2 bundles asparagus, ends snapped off
1 cup double podded broad beans
2 cups mesclun salad mix
1 punnet cherry tomatoes, halved
½ cup almonds, lightly toasted
3 tablespoons red wine vinegar
3 tablespoons extra virgin olive oil
1 teaspoon Dijon mustard
½ teaspoon salt
180g halloumi, cut into slices
Method
Bring a saucepan of water to the boil and cook asparagus for 4-5 minutes until just cooked. Remove asparagus from the pan and cook broad beans for 2 minutes. Allow vegetables to cool to room temperature and chop asparagus spears in half.
Place mesclun mix over the base of a serving platter and cover with asparagus and broad beans. Scatter with cherry tomatoes and then almonds.
Mix vinegar, oil, mustard and salt together and set aside.
Heat a non stick pan or barbecue plate and quickly pan fry halloumi until golden on both sides. Transfer the hot halloumi straight to the salad. Drizzle salad with dressing and serve.