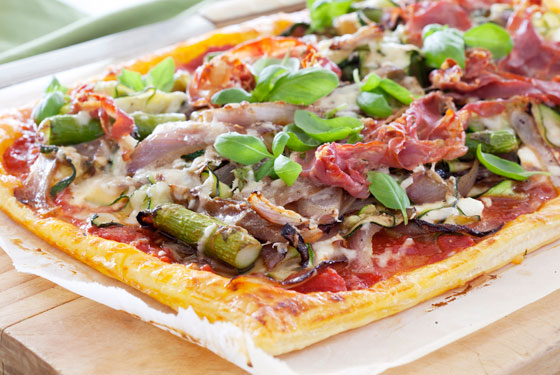 Ingredients
1 bunch asparagus, ends snapped off
2 zucchini
1 tbsp olive oil
1 1/2 sheets butter puff pastry
1/2 cup tomato pasta sauce
1/2 cup shaved parmesan cheese
100g thinly sliced prosciutto, roughly chopped
1 egg yolk, lightly whisked
1/2 cup basil leaves
Method
Preheat oven to 220 C. Brush the asparagus with oil and place on a bbq or hot plate and cook until just tender. Slice the zucchini lengthways with a vegetable peeler and lightly cook with the asparagus.
Place the puff pastry on an oven tray to form a 33 cm long rectangle and mark a 1 cm edge around the edge of the pastry with a sharp knife but don't cut completely through.
Spread the pasta sauce over the pastry within the 1 cm edge and cover with asparagus and zucchini. Scatter with prosciutto and parmesan. Brush the edge with egg for a glossy finish. Bake for 15 minutes until pastry is puffed and golden. Scatter with basil leaves before serving.