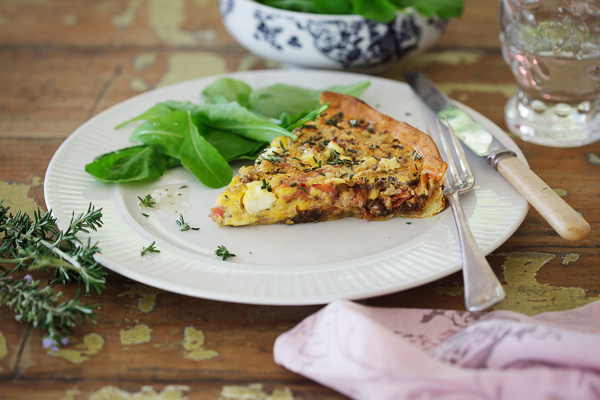 Ingredients
1 quantity savoury short pastry

5 eggs

500ml cream

3/4 cup caramelised onion

200g feta

100g prosciutto, chopped

1/2 cup chopped walnuts
Method
Preheat oven to 200 C. Line a 24cm pie dish with pastry and prick with a fork.  Cover with baking paper and weights and bake blind for 15 minutes until lightly coloured.  Remove weights and bake for a further few minutes.
Reduce the heat to 180 C.
Whisk together eggs and cream and season with salt and pepper.
Spoon the caramelised onion into the pastry case and crumble over feta, chopped prosciutto and sprinkle with walnut pieces.  Pour over the egg and cream mixture and sprinkle with chopped rosemary. Bake for 25 minutes until the filling is just set.