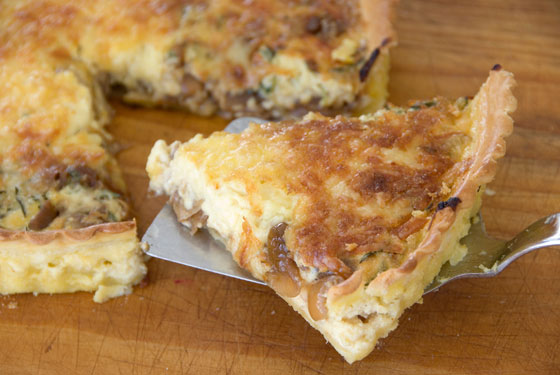 Ingredients
300 g shortcrust pastry

50 g butter

2 tablespoons olive oil

5 large brown onions, chopped

1 ½ tablespoons balsamic vinegar

2 teaspoons thyme leaves

3 eggs

300 ml cream

½ cup grated gruyere cheese

salt and freshly ground black pepper
Method
Gently fit the pastry into a 23 cm tart pan and then refrigerate for 30 minutes.
Melt the butter and oil in a saucepan and gently cook the onions for 40 minutes, stirring regularly.  By this time they should be changing colour but not getting any burnt edges.  Add the balsamic to the pan and continue to cook for a further 5 -10 minutes until glossy and brown.  Remove from the heat and stir through the thyme leaves.
Preheat the oven to 200 C and blind bake the tart shell for 15 minutes.
Remove the tart and reduce the oven heat to 180 C.
Whisk the eggs with the cream and season with salt and freshly ground black pepper.  Spoon the onion into the tart shell, pour over the eggs and sprinkle with grated cheese.  Bake for 30 minutes until golden and just set.  Allow to rest for 15 minutes before slicing.