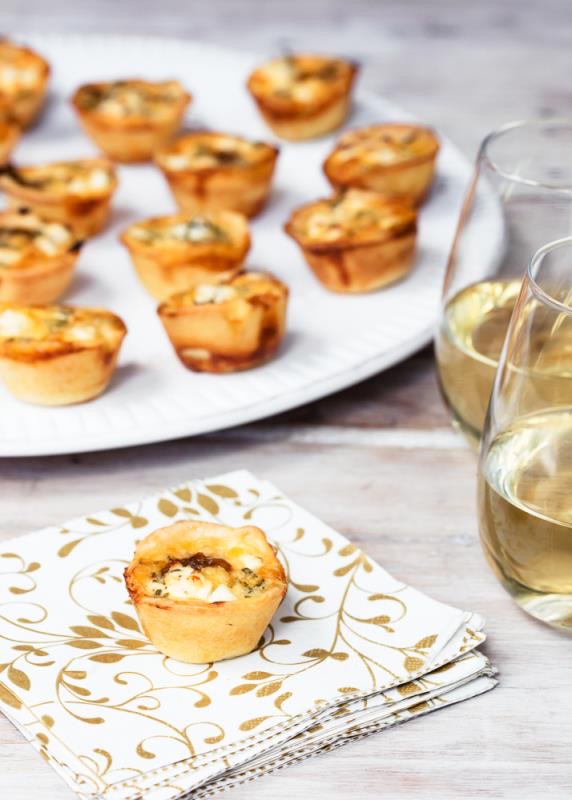 Perfect for parties these little tarts are easily made ahead of time and also freeze well.
I sometimes make a large batch of caramelised onion and thaw as needed and also often have a plastic container of frozen tarts on hand.  They thaw and heat quickly in a hot oven.
.
Ingredients
3 large brown onions, halved lengthwise and then thinly sliced

25g butter

1 tablespoon balsamic vinegar

1 teaspoon brown sugar

2 tablespoons olive oil

2 eggs

200ml cream

2 sheets (300g approx) frozen short crust pastry

100g goats' cheese (or feta), crumbled

salt and freshly ground black pepper

1 tablespoon finely chopped rosemary
Method
Place the onion, butter and oil into a saucepan, cover and cook over a gentle heat for 20 minutes, stirring at times.
Remove the lid from the pan, increase the heat to moderate, add the balsamic vinegar and  sugar, allow to cook and reduce until the onion is a caramel brown colour.
Set aside to cool.
Preheat the oven to 200 C.
Cut pastry rounds with a glass or cookie cutter and line 24 mini muffin tins.
Whisk the eggs and cream together in a jug until well mixed.
Divide the onion between the pastry cases, sprinkle with feta and rosemary.
Pour in the egg and cream mixture, season with ground pepper and a little salt.
Bake for 15 minutes until puffed and golden.
Cool on a wire rack and store in an airtight container in the fridge or freeze until required.