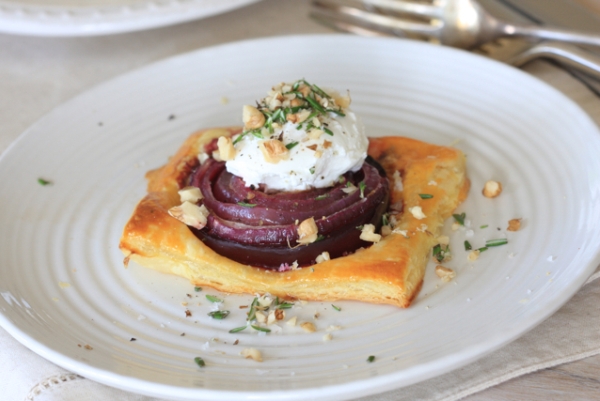 The flavour combination of these pastries is wonderful.  They are lovely for lunch or make them small for as finger food.
Ingredients
2 sheets butter puff pastry

2-3 (depending on size)

beetroot, cooked until just tender

1

large red onions, finely sliced into rings

125g soft goats cheese

1/2 cup walnuts, lightly roasted and roughly chopped

1 tablespoon chopped rosemary

sea salt to taste

1 egg yolk, lightly whisked
Method
Preheat oven to 200 C.
Cut pastry into squares 8 squares of approximately 9-10cm in diameter.  Place pastry on a cold oven tray.
Slice cold beetroot into around .5cm thick slices and place in the centre of each pastry square.  Top with onion rings and a generous dollop of goats cheese.
Brush pastry with egg yolk and then bake for 10 minutes or until pastry is puffed and golden.
Sprinkle with walnuts, rosemary and sea salt prior to serving.
Serve warm or at room temperature.