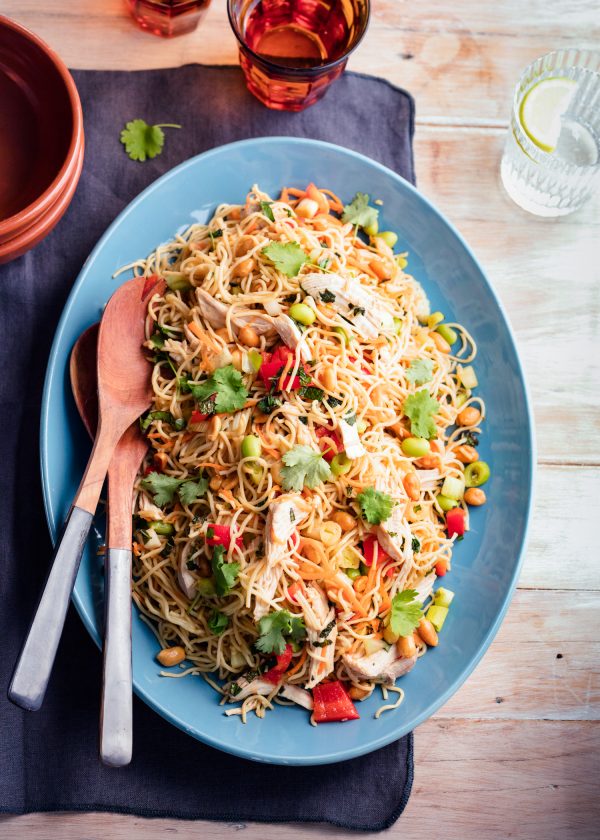 Quick, easy and oh so tasty.
Ignore the long ingredient list as it really is so simple and is sure to become a family favourite.
Ingredients
4

chicken breasts, skinless and boneless

280g dried round egg_noodles

1 tablespoon

sesame oil

1/2 cup

edamame beans

2

carrots, grated

4

spring onions, finely sliced

1

red capsicum, diced

2

stalks celery, finely sliced

1 cup

chopped telegraph cucumber (approx 1.5cm chunks)

1/3 cup

roasted salted peanuts

1 tablespoon

chopped mint

2 tablespoons

chopped basil

1/4 cup

coriander leaves

Dressing

1/4 cup salad oil e.g. rice bran, canola

2 tablespoons

rice vinegar

2 tablespoons

soy sauce

1 tablespoon

fish sauce

1 tablespoon grated fresh ginger

2

cloves garlic, finely chopped

1

stalk lemongrass, finely chopped*

1 kafir lime leaf

finely chopped*

1 small chilli

finely chopped (optional)

1

teaspoon sugar
Method
Poach the chicken in a saucepan of simmering salted water until cooked through.
Allow to cool enough to handle and then chop into bite sized pieces.
Cook the noodles in a large saucepan of salted water according to packet instructions.
Drain the noodles well and drizzle with the sesame oil.  Toss to make sure the noodles stay separated.
Cook the edamame for 2 minutes in a saucepan of boiling water, drain well.
Combine noodles with remaining salad ingredients in a large bowl or platter and toss to combine.
Mix dressing ingredients together in a small bowl.  Drizzle over the salad.  Toss again and then serve or cover and refrigerate until needed.
*kafir lime leave and lemongrass add a lovely citrus flavour.  If you are unable to get these you can use grated lime zest or a finely chopped lime leaf.