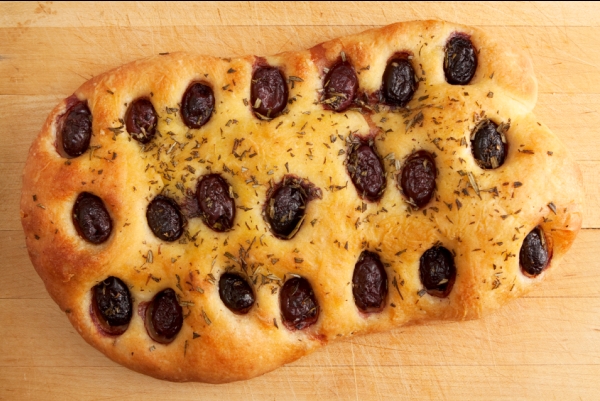 Ingredients
2 teaspoons dried yeast
1 cup lukewarm water
2 teaspoons sugar
3 cups white flour (high-grade bread flour is good)
1 tablespoon extra virgin olive oil
1/2 teaspoon salt
1 teaspoon sea salt
1 tablespoon roughly chopped fresh rosemary leaves
3/4 cup black olives
Method
Sprinkle the yeast and sugar over the warm water and stir to combine. Set aside until it starts to froth on top, about 5 minutes.
Place the flour and ½ teaspoon of salt in a large bowl and make a well in the middle. Gradually stir in the yeast mixture and then the olive oil, stirring with a knife until the mixture comes together. If need be add a small amount more of water.  Turn the dough out onto a lightly floured board and knead for about 15 minutes until you have a silky smooth dough. Place in an oiled bowl and cover, leave in a warm spot for 1 hour or until doubled in bulk.
Preheat the oven to 220°C. Gently punch down dough to remove air and then place on an oiled baking tray. Stretch dough into a rectangular shape and using the tips of your fingers make indents in the surface of the dough. Brush with oil and sprinkle with sea salt, rosemary and olives. Bake for 15-20 minutes or until crisp and golden.