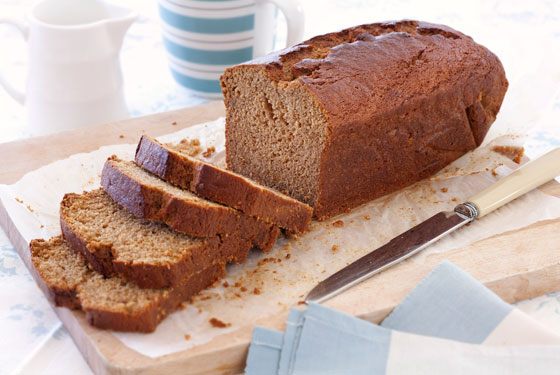 This is a wonderful sticky,moist gingerbread.
I would love to claim the recipe to be my own but it is printed with the kind permission of Phillip Johnson from Ecco.
www.ecco.com
Serves 10-12
Ingredients
1 1/2 cups

boiling water

1 cup (250ml)

godlen syrup

1 teaspoon

bicarbonate soda (baking soda)

100g (4oz)

unsalted butter, softened

1 cup (9 oz)

brown sugar

1

egg

2 1/2 cups

plain flour

1 tablespoon (20ml - Australian)

baking powder

3 teaspoons

ground ginger

pinch

ground cloves

1 teaspoon

ground cinnamon

pinch nutmeg

1/2 teaspoon

salt
Method
Preheat oven to 160 C or 325 F
In a suacepan, bring water to the boil. Remove from heat and stir in golden syrup and bicarbonate of soda. Cool slightly.
Cream butter and sugar until light and pale. Add egg and beat well. Stir in golden syrup mixture. Sift together flour, baking powder, ginger, cloves, cinnamon, nutmeg and salt. Fold into creamed butter and sugar.
Pour into a large greased loaf pan and bake for 45-50 minutes or until a skewer inserted comes out clean and gingerbread springs back when touched. Leave in pan for 5 minutes before turning onto a cake rack.