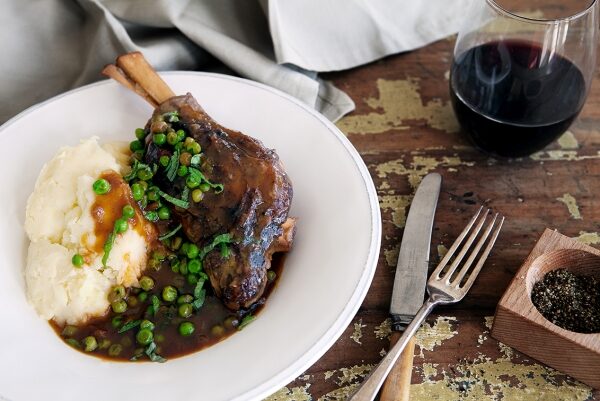 Neil Perry has a delicious recipe for a lamb, pea and mint pie which inspired me to do the same combination with lamb shanks.
Ingredients
4

large lamb shanks or drumsticks (about 1.25kg)

1/4 cup flour seasoned with salt and pepper

2 onions,finely chopped

2 tablespoons tomato paste

3/4 cup red wine

1 1/4 cups beef stock

3 handfuls green peas

1/4 cup chopped mint
Method
Preheat the oven to 160 C.
Dust the lamb shanks with the seasoned flour,  heat a film of oil in a large frying pan over a medium heat and brown the shanks in batches.  Transfer them to a large casserole.
Add a little more oil to the pan, reduce heat and cook onion until soft but not coloured.  Add the tomato paste and then increase heat and add the red wine, allowing it to boil.
Transfer the mixture to the casserole along with the stock.
Cover the shanks with baking paper and then the lid of the casserole dish and cook for 2 1/2 – 3 hours until shanks are really tender. Turn the shanks at times.  Add peas and mint and cook a further 5 minutes.
Check liquid consistency and thicken with equal quantities of flour rubbed with butter if the sauce needs thickening (drop small balls of flour mixture in and allow to dissolve in the liquid).
Serve with mash.