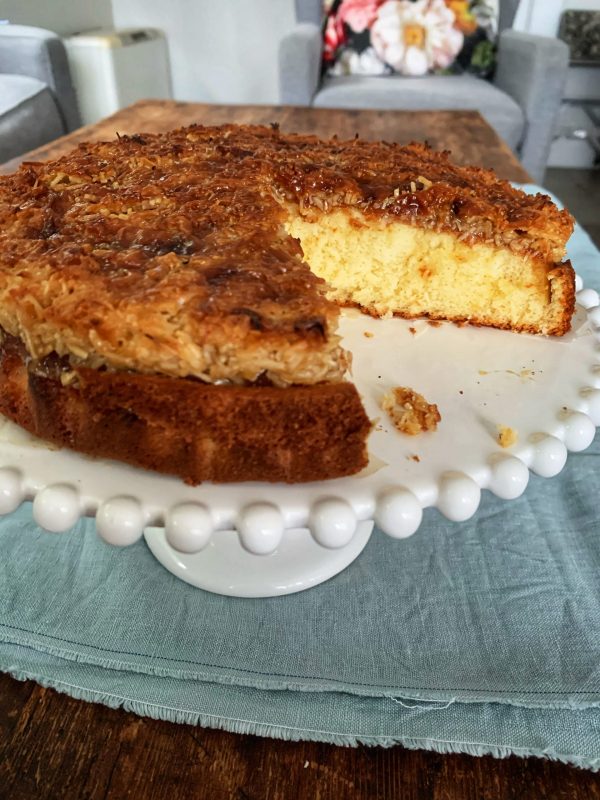 Morven
It makes a lovely large cake for a crowd but the recipe is very easily halved.
If this cake happens to last more than a day it actually improves on keeping.
*note from Helen – I halve the recipe and make this cake in a 23cm (9 inch) round spring form cake tin, as photographed. 
Ingredients
4 eggs

2 cups sugar

2 teaspoons vanilla essence

2 cups flour

2 tsp baking powder

1/2 teaspoon salt

1 cup milk

60 g butter (approx 4 tablespoons)

Topping:

1 1/2 cups firmly packed brown sugar

150 g butter, melted

1/2 cup milk (use cream if you happen to have some)

2 cups coconut (thread coconut is great)
Method
Preheat the oven to 180 C.
In a mixing bowl, beat eggs, sugar and vanilla until thick.
Combine flour, baking powder and salt and add to egg mixture
Beat until just combined
In a saucepan, bring milk and butter to a boil, stirring constantly
Add to batter and beat until combined.
Pour into a greased 18 x 28 cm baking pan
Bake for about 35-40 minutes or until cake tests done.
Combine topping ingredients
Spread over warm cake
Place under grill until lightly browned (watch it in case it burns!)