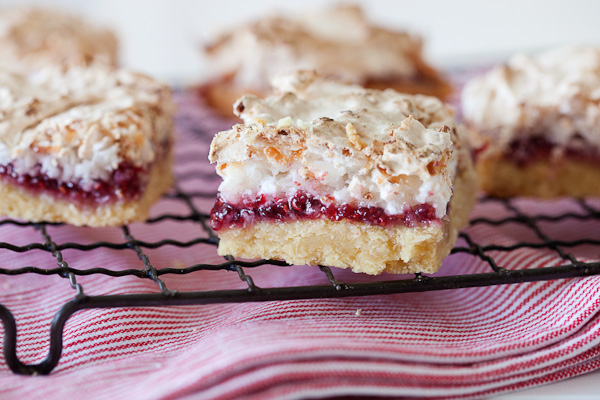 Ingredients
125g butter
1/3 cup sugar
2 eggs plus 1 extra egg white
1/2 teaspoon baking powder
2 cups flour
1/2 cup raspberry jam
3/4 cup sugar
1/4 teaspoon salt
1 cup shredded coconut
Method
Preheat oven to 170 C.
Beat butter and 1/3 cup of sugar until pale and creamy. Separate eggs and add yolks to the butter mixture and mix well. Sift flour and baking powder together, add and mix well. Press the mixture evenly into a lined 28 x 18cm slice pan.
Spread the base with jam. Beat egg whites until stiff, add sugar and salt and continue beating until it goes glossy. Fold in coconut. Spread meringue on top of the jam.
Bake for 30 minutes or until meringue is coloured and firm.