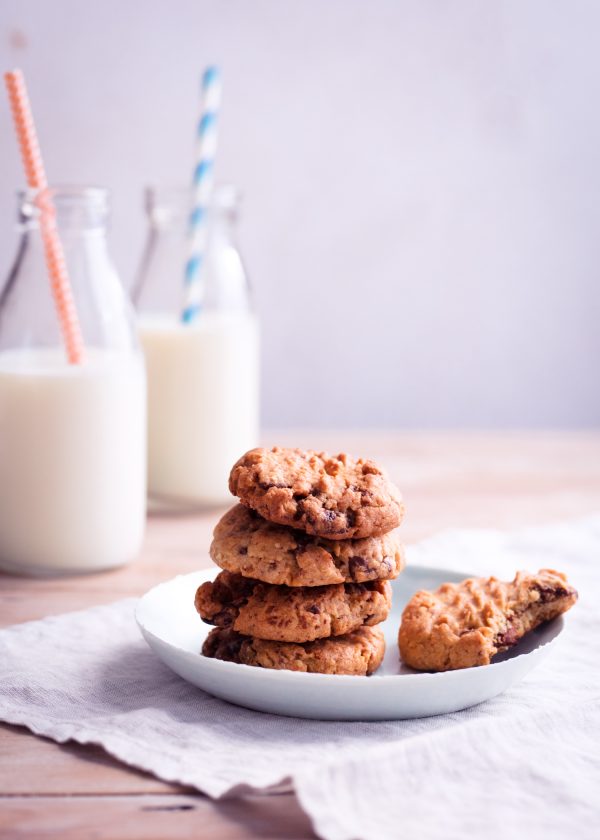 Having oats and coconut gives these biscuits more texture and interest than regular chocolate chip biscuits.
They are a favourite with my kids and a good biscuit to add to lunch boxes.
Ingredients
2 cups rolled oats

150g butter, softened

1 cup brown sugar

1 teaspoon vanilla extract

1 egg

1 cup self-raising flour

1/2 cup desiccated coconut

1 heaped cup chopped chocolate pieces
Method
Preheat the oven to 180 C.
Place the oats into the bowl of a food processor and quickly pulse until chopped but not powdered.
In a large bowl beat the butter and sugar together until light and fluffy.
Mix in the vanilla and egg, beat well.
Add oats, flour and coconut and lastly mix in the chocolate chips.
Roll the mixture into walnut sized balls and place on a cold greased or lined tray.
Press gently with a flour dusted fork.
Bake for 12 minutes or until golden and firm.
Cool on a wire rack and store in a airtight container once cold.