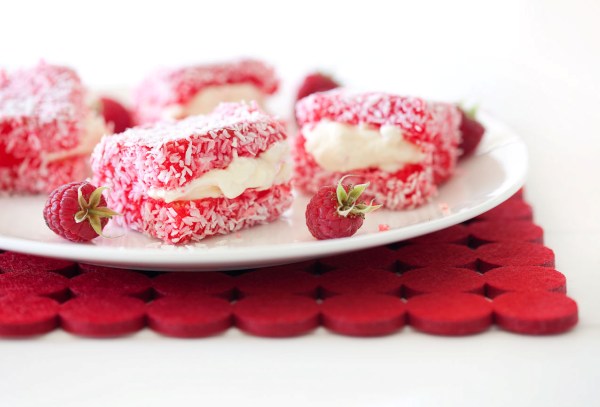 115g butter
1/2 cup caster sugar
2 eggs
1 1/4 cups flour
1 tsp baking powder
1/2 cup milk
1 tsp vanilla
1 packet raspberry jelly
1 cup boiling water
1/2 cup dessicated coconut
3/4 cup cream, whipped
Method
You can of course use bought sponge but lamingtons are so much nicer with fluffy home made sponge.
Preheat oven to 180 C. Beat butter and sugar until pale and creamy, add eggs , one at a time, beating well after each.
Sift over combined flour and baking powder and add along with milk and vanilla.
Pour into a square 20 cm lined cake tin and bake for 20 minutes.
Make the raspberry jelly by combing 1 packet of jelly with 1 cup boiling water, allow to cool and partially set but still pourable.
Allow the sponge to cool completely and often putting it in the freezer briefly will make it easier to slice.  Cut sponge into 5 cm squares.
Dip sponge squares into jelly and then into coconut.
Allow to set and then cut almost in half and fill with whipped cream.
Serve with fresh raspberries if in season.