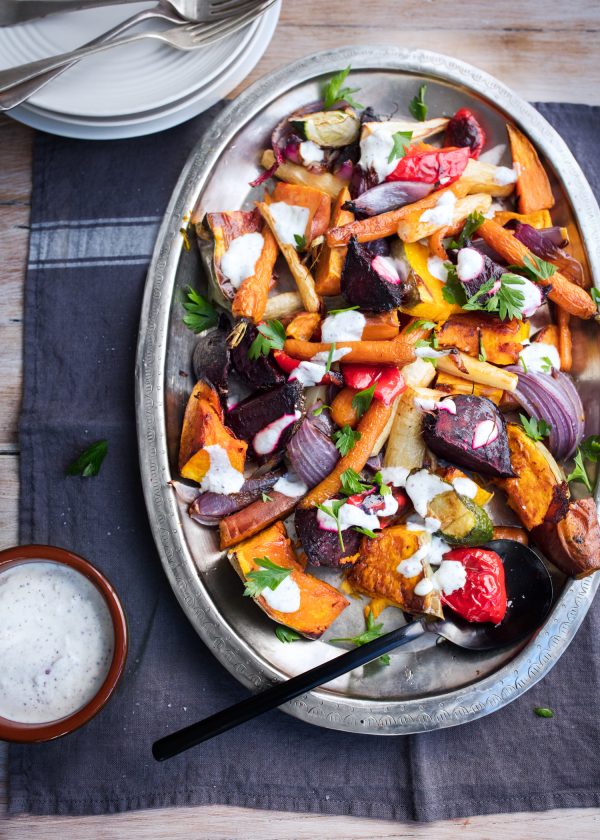 This dressing is so simple yet tastes fantastic and gives roast vegetables an interesting spicy twist.
Sumac should be available in supermarkets within the spice section.
Ingredients
2

medium sized beetroot, roughly chopped

1/4 cup

olive oil

sea salt

1-2

red onions, quartered

1

red capsicum, sliced into 2 cm wide strips

300g

pumpkin, chopped into chunks

1

parsnip, cut into batons

8

baby carrots, halved lengthways

1 teaspoon

sumac

3/4 cup

thick Greek style natural yoghurt

1

clove garlic finely chopped with 1/2 teaspoon sea salt

1/2 teaspoon extra

sumac

parsley leaves
Method
Preheat the oven to 200 C.
Wrap the beetroot in foil with a drizzle of olive oil and place in a roasting dish.  Cook for 30 minutes.  Remove the beetroot foil and add the remaining vegetables to the pan with the beetroot.
Drizzle with oil and season with sea salt and sprinkle with 1 teaspoon of sumac.
Roast for 45 minutes, turning at times, until vegetables are tender and caramelised on the edges.
Whisk the garlic and sumac into the yoghurt.
Allow the vegetables to cool to lukewarm or room temperature before arranging in a serving dish, scatter with parsley leaves.
Serve with the sumac yoghurt dressing.