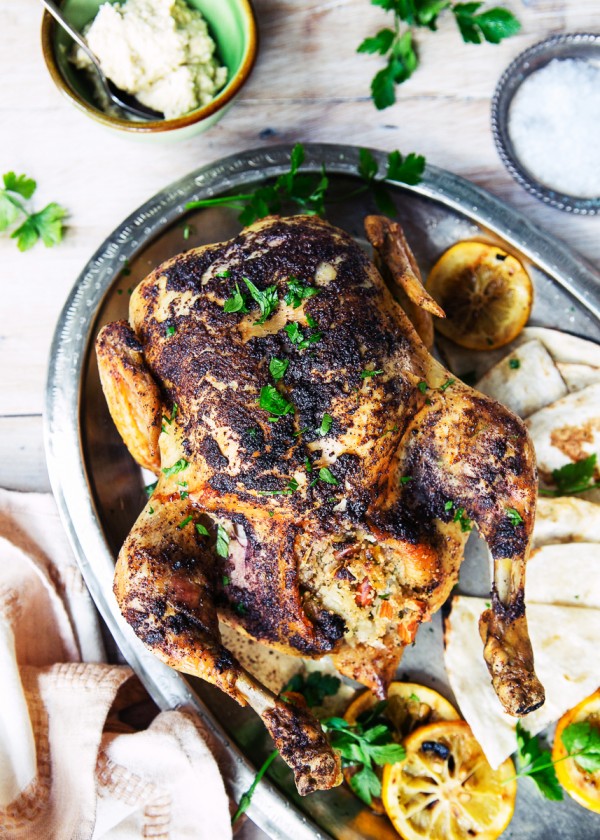 Ingredients
1/3 cup

couscous

2 tablespoons

olive oil

1

medium sized onion, finely chopped

2 cloves

garlic, finely chopped

1/4 cup

almonds, lightly toasted and sliced

1/2 teaspoon

ground cinnamon

1/4 cup

chopped parsley

5

Medjool dates, chopped

1

size 16 Rangitikei chicken

finely grated zest and juice of 1 lemon

1 tablespoon

sumac

lemon slices

parsley leaves
Method
Preheat the oven to 180 C.
Place the couscous in a bowl, pour over 1/2 cup of boiling water, set aside for 5 minutes and then fluff the couscous with a fork.
Heat the olive oil in a pan over a gentle heat and cook the onion and garlic until tender.
Combine the onion and garlic with the couscous, stirring to break up any clumps.
Mix in the almonds, cinnamon, parsley and dates.  Season with salt and freshly ground black pepper.
Spoon enough stuffing into the cavity of the chicken to loosely fill it (left over stuffing can be served alongside the chicken as long as you take care that it hasn't been in contact with the raw chicken).
Rub the skin with olive oil and lemon juice and then sprinkle with lemon zest, sumac and salt.
Roast for 90 minutes or until the thigh juices run clear when pierced with a skewer.
Add slices of lemon to the pan if you like.
Serve chicken garnished with flat leaf parsley leaves.