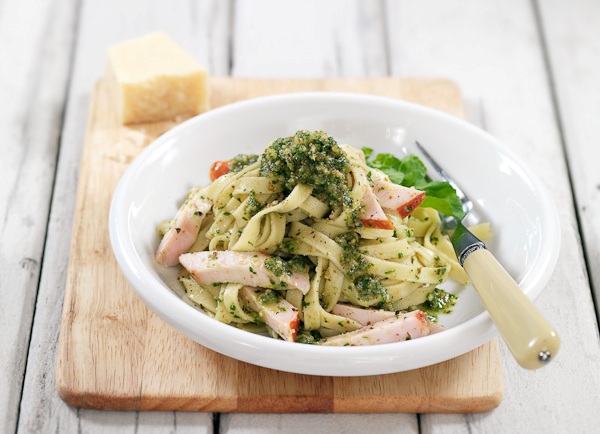 Serves 4.
By
Ingredients
1/2 cup walnuts, lightly toasted

large handful (approx 75g) of rocket leaves

1 large clove garlic, crushed

1/3 cup grated parmesan cheese

1/3 cup extra virgin olive oil

salt to taste

400g fresh fettuccine

1 x Tegel Manuka Smoked Chicken Breast 300g

shaved parmesan for serving
Method
1. Place walnuts, rocket, garlic and parmesan cheese into the bowl of a food processor and briefly process to a coarse paste.
2. With the motor running add the oil in a slow stream until combined.  Taste and season with salt as needed.
3. Bring a large saucepan of salted water to the boil and cook fettuccine according to packet instructions until just tender.
4. At the same time, chop chicken into bite sized pieces.
5. Drain the pasta well and then toss with chicken and most of the pesto.
Serve topped with a dollop of pesto and extra parmesan cheese.