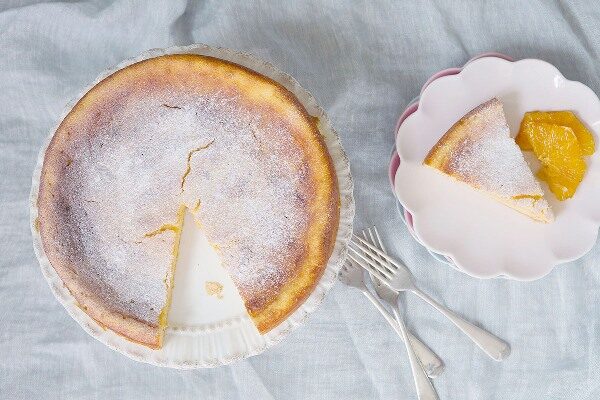 Ingredients
4 size 7 eggs, separated

3/4 cup sugar

500g ricotta cheese

2 teaspoons

finely grated lemon rind

2 teaspoons

finely grated orange rind

1 teaspoon

vanilla extract

1/4

cup flour

3/4 cup

ground almonds
Method
Preheat the oven to 160 C.
Grease and lightly flour the sides of a 22cm round spring form cake pan.
Cover the base with a disc of baking paper.
Place egg yolks and sugar in a mixing bowl and whisk or beat with an electric mixer until pale and creamy. Stir in the ricotta, flour, almonds, vanilla, orange and lemon zest.
In a separate bowl beat the egg whites just until the mixture forms stiff peaks when the beater is lifted, do not over beat.  Gently fold the egg white into the ricotta mixture taking care not to overmix.
Spoon the mixture into the prepared tin and then bake for 35 minutes or until the cake is golden and set around the outside but has a slight wobble in the centre still.  Allow the cake to cool in the tin.  Loosen the sides with a small knife and then carefully turn out onto a plate and chill well.
Dust with icing sugar and serve with poached or fresh fruit.