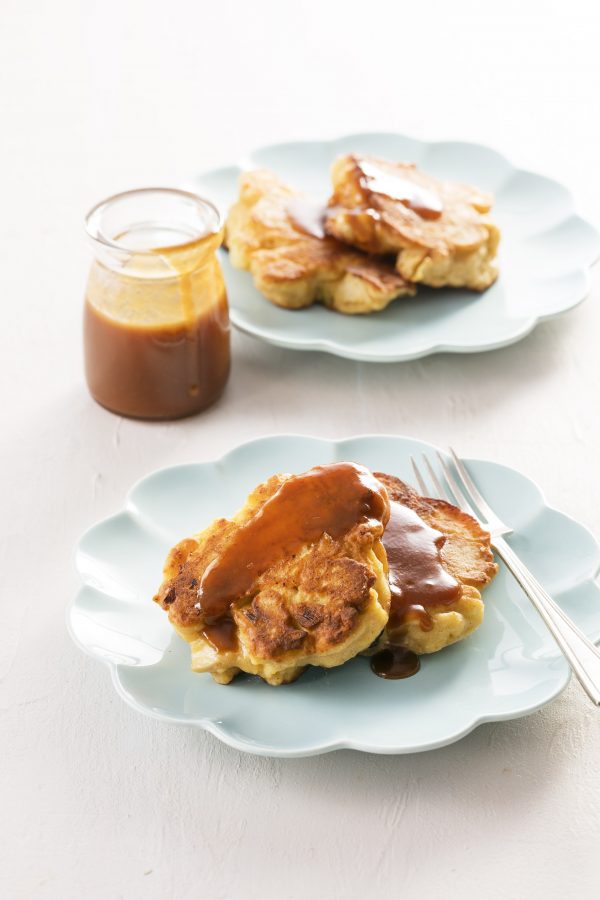 Easy to make and so light and delicious, these ricotta fritters are a great dessert or brunch treat.
Ingredients
1/2 cup

sugar

1/4 cup

water

1/2 cup

cream

1

teaspoon vanilla extract

2 large

tart apples, diced (leave skin on)

1/2 cup (125g)

ricotta

2

eggs, lightly whisked

3/4 cup

flour

1/2

teaspoon cinnamon

2 tablespoons

oil

2 tablespoons

butter
Method
Heat the sugar and water together in a small saucepan, stirring constantly. Brush the sides with a wet pastry brush to remove any sugar crystals.
Bring to the boil and boil without stirring until the syrup starts to colour. Tilt the pan slightly to spread the colour and allow to deepen to light amber, gently tilt the pan so the the colour is consistent. Quickly remove the pan from the heat and very carefully pour in the cream – it will bubble and could spit so arms length is best. Stir in vanilla.
Set the sauce aside to cool.  The sauce can be made a day or two in advance and stored in the fridge.
In a mixing bowl combine the apple, ricotta and eggs and mix well.  Gently stir in the combined flour and cinnamon until just combined, don't overmix.
Heat half the oil and butter together in a large frying pan over a moderate heat.
Add large spoonfuls of batter to the pan and cook in batches until golden on each side and cooked through.
Serve warm fritters with caramel sauce and ice cream.