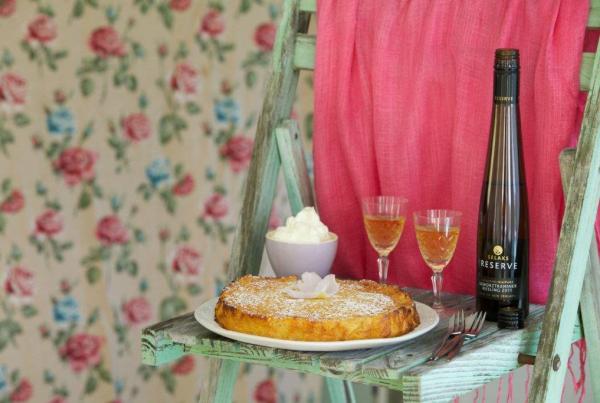 Wine match: Selaks Reserve Gisborne Waipara Gewurztraminer Riesling
I love this honey-scented cake because it is so easy to make and can be served warm, or made ahead and served at room temperature, paired with whatever fruits are in season.
1 cup sultanas
4 eggs
5 Tbs sugar
3 heaped Tbs plain flour
2 heaped Tbs liquid honey (or any honey warmed slightly to liquid)
Zest of one lemon
250 g ricotta cheese
1 cup thick yoghurt
½ tsp ground cinnamon
1 Tbs sugar, to serve
Method
Preheat the oven to 180°C.
Line a loose-bottomed cake tin with baking paper.
Toss the sultanas in ONE tablespoon of flour to coat. This stops them from sinking to the bottom of the cake batter mixture.
In a large bowl beat the eggs and sugar until pale, light and creamy.
Stir in the remaining flour, honey, lemon zest , ricotta, yoghurt and cinnamon.  Stir until well combined.  Lastly, stir through the floured sultanas.
Pour into the prepared the baking dish and bake for 30 – 40 minutes to 'wobble stage' (i.e. set around the outside but with a slight wobble in the centre) and golden on the top.
Serve warm or cold, sprinkled with extra sugar.