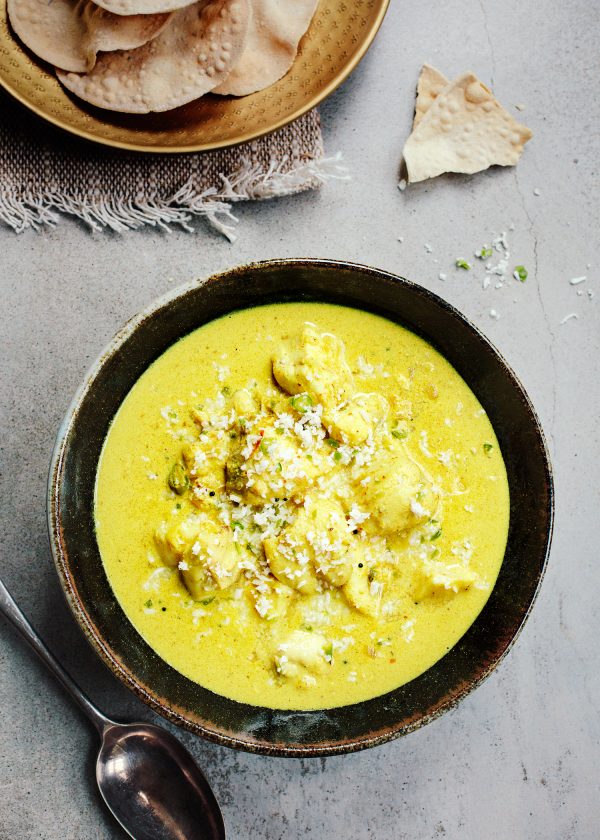 Kit Perera kindly shared this recipe for me to take to Sri Lanka with our World Expeditions group.
I have now made it several times and despite forgetting to add the tomatoes for this image – duh, it really is a delicious curry that as long as you have curry powder on hand, is very quick to make.
Kit is New Zealand based and can be booked to cook fabulous Sri Lankan fare for you through his business Chef for a Night.
Ingredients
800g seer fish steaks (I use Hapuka or other firm white fish)

1 teaspoon ground turmeric

3 tablespoons vegetable oil

1 teaspoon black mustard seeds

1 sprig curry leaves

1 cinnamon quill

1 onion, finely chopped

2 green chillies split lengthways

2 cloves garlic, finely chopped

2 teaspoons grated fresh ginger

1 tablespoon Sri Lankan curry powder

2 ripe tomatoes, chopped

400 ml coconut milk

Salt to taste
Method
Combine the fish and half the turmeric in a bowl and mix well
Heat the oil in a large saucepan over medium to high heat; add the mustard seeds and allow them to pop. Add the cinnamon and curry leaves; cook for 2-3 minutes, stirring. Then add the onion, chillies, garlic and ginger; cook for 2-3 minutes, stirring Add the curry powder, turmeric and tomatoes. Cook for further 2 minutes, stirring
Add the fish and mix well to combine
Add coconut milk, stir and bring to a rapid simmer. Turn down the heat to low and simmer for 8-10 minutes. Season with salt
Serve with steamed rice, coconut sambal and pappadoms
Serves 4.
Sri Lankan Curry Powder
50 g- coriander seeds
30 g- cumin seeds
1 tablespoon fengureek seeds
1 tablespoon fennel seeds
1 cinnamon stick
4 cardamom pods
4 tablespoons dried curry leaves
Method
In a heavy based pan over low heat, dry roast separately the coriander, cumin, fengureek and fennel, stirring constantly until each becomes fairly golden. Do not let them burn.
Put the roasted spices into a spice grinder together with cinnamon stick broken in pieces, cardamom and curry leaves
Blend on high speed to a fine powder