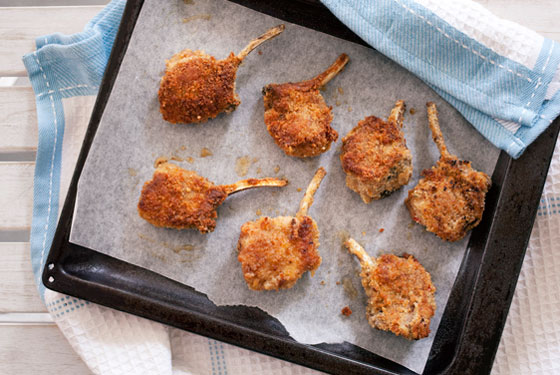 12 lamb cutlets
1/2 red capsicum, finely chopped
4 slices prosciutto, finely chopped
4 sage leaves, chopped
1/4 cup grated mozzarella cheese
1/4 cup grated parmesan cheese
salt and freshly ground black pepper
1 egg, lightly whisked
1 cup panko crumbs
2 tbsp oil
Method
Preheat oven to 180 C. Remove lamb from the fridge at least 20 minutes before starting.
Combine capsicum, prosciutto, sage, mozzarella and parmesan in a bowl.  Season with salt and pepper.
Make an incision in each lamb cutlet on the side opposite the bone and stuff with filling.
Dip each cutlet in egg and then coat with crumbs.
Heat a little oil in a large frying pan and brown cutlets on both sides.  Transfer to a baking dish and continue to cook for a further 10 minutes until cooked through.