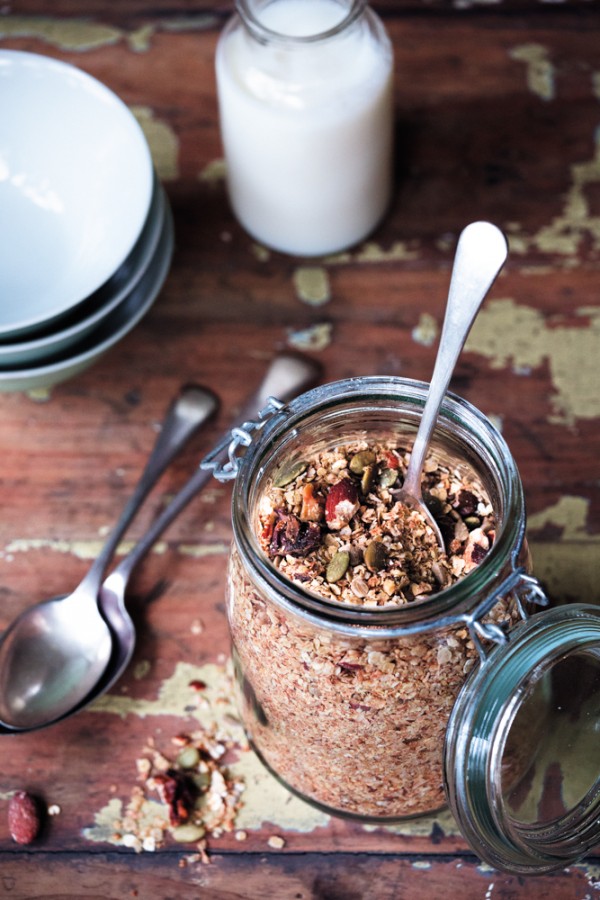 Ingredients
4 1/2 cups

rolled oats

1 cup

almonds, roughly chopped

1 cup

walnut halves, roughly chopped

1/2 cup

sunflower seeds

1/2 cup

pumpkin seeds

1 1/2 teaspoons

ground cinnamon

1/2 teaspoon

grated nutmeg

1/2 teaspoon

ground alspice

1/3 cup

brown sugar

1/2 cup

oil

1 1/2 cups

desiccated coconut

1 cup

wheatgerm

dried fruit of choice (optional)
Method
Preheat the oven to 160 C.
Combine oats, almonds, walnuts, seeds, spices and brown sugar together in a large roasting dish.
Drizzle over the oil and mix well.
Bake for 15-20 minutes, stirring regularly, until the oats are lightly coloured. Add in the coconut and wheatgerm and continue to bake golden and crisp.
Allow to cool before transferring to a sealed container.
* If you add dry fruit then mix it through at the end of cooking.