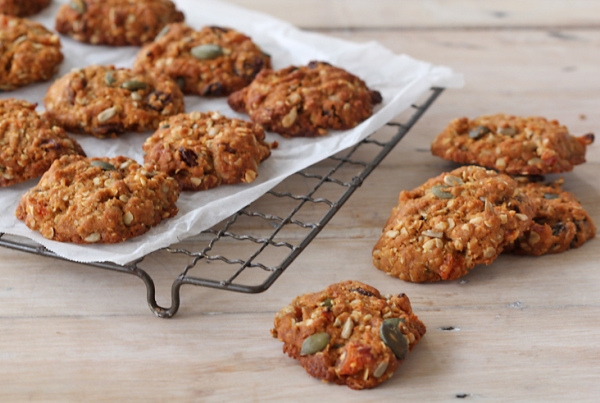 Ingredients
160g butter

3 tablespoons golden syrup

1 cup flour

1 cup rolled oats

1/4 cup sunflower seeds

1/4 cup pumpkin seeds

1/2 cup brown sugar

1/2 cup desiccated coconut

1/2 cup sultanas

1/2 cup chopped dried apricots

1 teaspoon baking soda

2 tablespoons boiling water
Method
Preheat oven to 170 C.
Melt butter with golden syrup over a gentle heat.
In a bowl combine flour, oats, seeds, sugar, sultanas and apricots.
Dissolve the baking soda in water and mix with the butter mixture.  Make a well in the dry ingredients and pour in the liquid, mix well.
Place tablespoons of mixture onto a lined baking tray and bake for 15 minutes or until golden.
Cool on a wire rack and store in an airtight container.