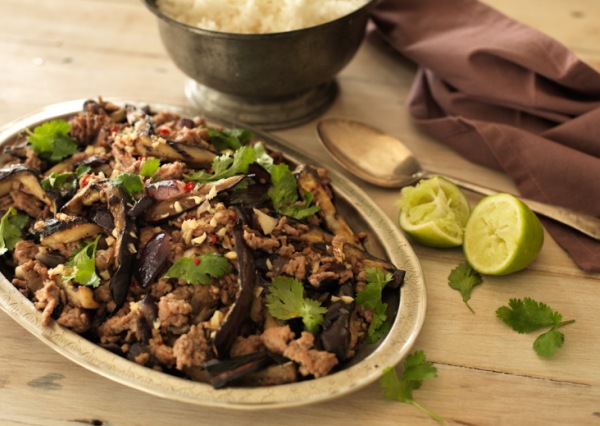 Ingredients
3 cloves garlic

1-2 tablespoons roughly chopped palm sugar

1 – 2 finely chopped fresh chillis

4 tablespoons fish sauce

4 tablespoons lime juice

1 eggplant

600g pork mince

2 cloves garlic, finely chopped

1 red onion, chopped

coriander leaves
Method
To start with make the nuoc cham (sauce) by pounding garlic and palm sugar in a mortar (if you don't have a mortar then either chop very finely or use a small food processor) until pasty and the garlic is pulverised, add chillies and pound, gradually add a few tab of lime juice to soften, then mix in most of lime and fish sauce, leaving a little for final adjustment. Taste sauce and if necessary add more lime or fish sauce - it should be bright and salty with no one flavour dominating.  Set aside.
Slice the eggplant into fingers approximately 1cm in diameter and 6cm long.
Brush with oil and then cook in a frying pan or on a ridged grill pan  until tender and coloured.
Heat a splash of oil in a wok and brown pork mince over a medium - high heat.  Reduce the heat and add onion and garlic and cook, stirring regularly for about 5 minutes.
Add the eggplant to the pan and toss to combine.  Turn off heat and pour over the nuoc cham. Toss to distribute.
Serve warm with coriander leaves and chopped spring onions if you like.